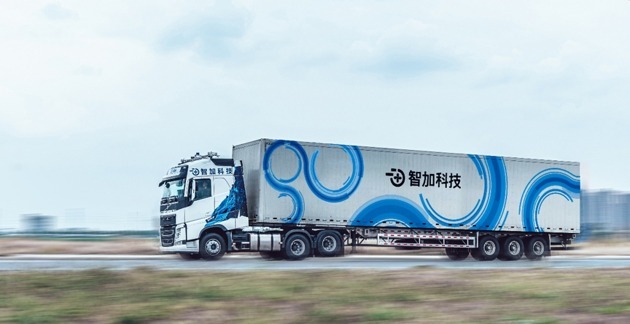 Photo/PlusAI
Dec. 3 (NBD) – China's first number plate for testing self-driving commercial truck was granted to tech start-up PlusAI on Friday, which will conduct routine test on public roads in Changzhou of Jiangsu Province.
The permission came as tech start-ups, logistics companies and IT giants swarm into the self-driving truck sector, encouraged by government policy as well as the alluring commercial potential.
According to a report by consulting firm Bain & Company, China is now the world's biggest road freight market, with a market size of 5 trillion yuan (720.1 billion U.S. dollars). The ownership of heavy trucks and light and medium trucks exceeds 5 million and 14 million respectively. The cost of logistics takes up 16 percent of China's GDP, suggesting lower efficiency compared with 10 percent for developed countries.
Besides, truck transport is widely considered as the first sector for self-driving's commercial application. The technology can be more easily applied in logistics scenarios compared with passenger cars, due to the fixed route, time and location, said founder and CEO of self-driving start-up FABU Tech He Xiaofei to NBD.
He further predicted that self-driving trucks will be commercially deployed in three years.
Fabu Tech partnered with Deppon Logistics and introduced the first operational unmanned delivery truck in Hangzhou on November 19.
Also in November, PlusAI received a new round of financing and reached exclusive strategic cooperation with freight information platform Full Truck Alliance Group to facilitate self-driving in trunk transport logistics.
Apart from start-ups, e-commerce giants are keen on self-driving trucks as well.
Cainiao Network, Alibaba's logistics sector, started recruiting self-driving engineers in January to develop autonomous trucks. In May Suning.com completed testing of its first autonomous heavy truck. And days later JD.com released an independently developed L4 self-driving heavy truck.
Mass commercial deployment of self-driving, however, involves more than number plates. PlusAI told NBD that self-driving in trunk transport logistics needs 5 to 10 years to reach maturity, since it requires not only technological breakthroughs, but also support in terms of investment, law and policy and infrastructures.
Founder of Sinovation Ventures and AI expert Kai-fu Lee said at a global summit on self-driving that technology is not the biggest challenge for self-driving. For its mass application in the future, the current systems of insurance, claim settlement, unemployment relief, security and accountability need to be improved.
Email: limenglin@nbd.com.cn
Editor: Li Menglin