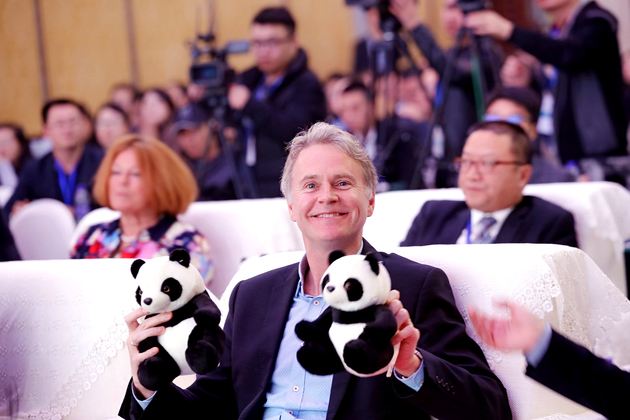 Richard Lewis (Photo/Zhang Jian)

Nov. 14 (NBD) – A city needs to continually improve its capacities to meet future challenges in holding cultural events, said Richard Lewis, former chairman of Edinburgh International Festival Committee, at the 2018 Chengdu Global Events Summit held in the southwest China's metropolis on Tuesday.
The summit is jointly held by National Business Daily and American Event Management Institution, gathering creative minds from home and abroad to discuss cultural creativity and the rise of global cities. 
In his keynote speech on building a world renowned cultural and tourism city through arts and events, Lewis shared the challenges and difficulties he confronted as a convenor of the influential Edinburgh International Festival.
From the roots of the International Festival starting in 1947, Edinburgh now has 12 festivals held throuhgout the year, including the famous Edinburgh Festival Fringe and two-week long Edinburgh International Film Festival. Lewis said these events have strengthened the soft power and enhanced the status of the Scotland capital.
As a conductor, composer, and poet, Lewis was elected as the Convenor for Culture and Sports at the City of Edinburgh Council in 2012, and during his five-year tenure he had continually pondered how to build Edinburgh, a relatively small-sized city, into a global city of arts and culture. 
It surely will cost considerable public fundings. He confessed that the festival needs financial support. While public fundings are always based on the key areas of education and health, the arts, sport and events risk being squeezed even tighter over the coming years, he explained.
Another challenge Lewis faced as an organizer is the decline of tourists after every event, a situation he and colleagues need to analyze and address with effective measures. Attracting tourists to revisit future festivals is an important issue.
Lewis said by 2030 the population of and direct flight to Edinburgh will see significant growth, which will enhance the festival's reputation, as well as pose more challenges to the city's reception capacity.
Lewis and his colleagues will explore ways to improve the transportation accessibility and livability of the city.
For example, they will keep training event receptionists and hotel professionals. Actually they just did a training session in August, said Lewis. 
Some of the event venues are in very ancient buildings that either have narrow entrances or low ceilings, and these are also places requiring optimization, added Lewis.
Drawing lessons from the 71-year history of Edinburgh International Festival, Lewis concluded that the city needs to keep improving every aspect in preparation for future challenges; and only through psychological health and mutual understanding can the festival win widespread support, therefore securing long-term development.
Email: limenglin@nbd.com.cn
Editor: Li Menglin