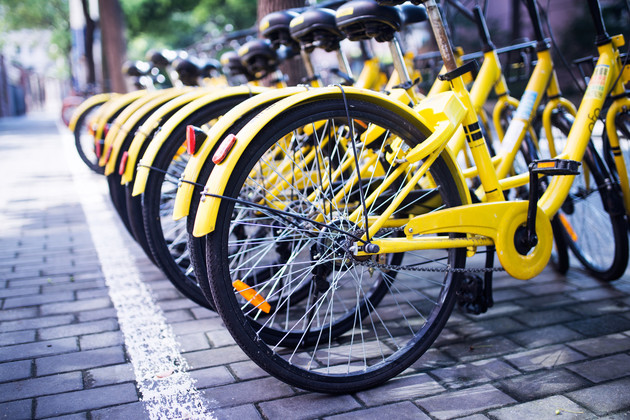 Photo/Shetuwang
Oct. 11 (NBD) –- China's largest ride-hailing company Didi Chuxing and Chinese bike-sharing firm Ofo both denied the report Tuesday that the former will take over the latter for 2 billion U.S. dollar.
Didi told NBD it has no intention of acquiring Ofo. The bike-sharing startup also called the report false information.
China's bike sharing bubble has burst following on-demand online services provider Meituan-Dianping's acquisition of bike-sharing pioneer Mobike months ago. On this occasion, Ofo, struggling with heavy debts and liquidity crisis, faces a more difficult situation.
Struggling to survive
Ofo is now undergoing a tough time in revitalizing resources, creating extra profits, and driving service transformation.
In July 2018, the once blooming startup shut down its business in Israel and the Middle East regions. Following that, India, Australia, the U.S., Germany, as well as South Korea also saw the firm's retreat.
In late September of 2018, due to capital shortage, Ofo terminated its cooperation with Sesame Credit, a credit institution under Ant Financial, and Ant Forest, a public welfare service under Ant Financial.
What's worse, Ofo has been entangled with lawsuits with its suppliers and partners including Shanghai-based Phoenix Bicycle, Best Express, as well as Beijing Yunniao Technology Co., Ltd and Deppon Logistics Co., Ltd over unpaid bills and contract disputes.
According to Qichacha.com, a company information provider in China, the searchable unpaid bills of Ofo even surpassed 104 million yuan (15.05 million U.S. dollars). How to shake off the impact of financial crisis remains a huge challenge to Ofo.
Expecting a savior
Being acquired after securing financing may be the best end for Ofo. Currently Didi and Alibaba seem to be the most likely buyers.
From Ofo's series C round of financing in 2016 to the series E round, Didi invested a total of 350 million U.S. dollars in the bike-sharing firm. However, Didi has stated a clear stance saying it has no interest in taking over Ofo.
In contrast, Alibaba shows a rather ambiguous attitude. In February 2018, the tech behemoth bailed out Ofo with two loans totaling 1.77 billion yuan (256.19 million U.S. dollars). In March, Alibaba led Ofo's series E2-1 round of financing with the participation of Ant Financial and other institutions. But now Alibaba seems to focus more on the other bike-sharing startup HelloBike.
Perhaps, both Didi and Alibaba are waiting for an acquisition plan favoring themselves, an investor close to Alibaba told news agency the 21st Century Business Herald.
Ofo's valuation is now between 1 to 1.5 billion U.S. dollars but its selling price will continue to plunge if the situation deteriorates, added the investor.
Email: wenqiao@nbd.com.cn
Editor: Wen Qiao