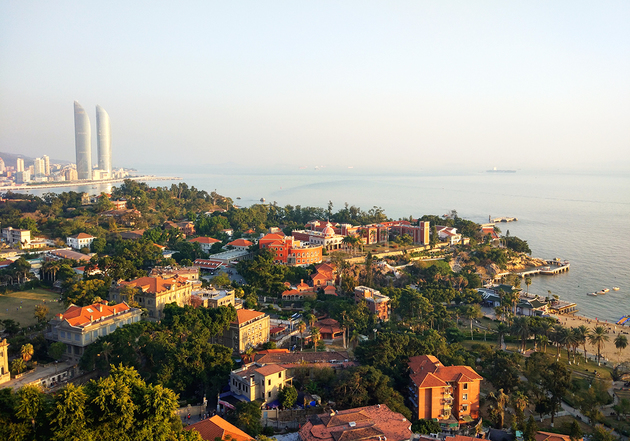 Photo/NBD
Oct. 9 (NBD) -- Hangzhou and Xiamen, two of the "new first-tier" cities in China, have announced more generous policies to lure and retain skilled workers and degree-holders.
On September 29, the Human Resources and Social Security Bureau and Public Security Bureau of Xiamen jointly issued a circular on the hukou policy for "key groups". According to the policy, fresh university graduates who are employed or starting their own business in Xiamen are qualified for the city's hukou. As for previous graduates, besides a legitimate and stable job, graduates holding a bachelor degree should be under the age of 45, while those with a college degree should be under 35 and have bought social insurance for more than one year. Other preferred key groups include senior skilled workers and oversea students.
Hangzhou soon followed suit. The municipal government has released a circular on hukou transfer policy, which will take effect on October 17. Compared with the March 6 version, the new policy further loosens its requirements for obtaining a local hukou. Apart from degree-holders who have already enjoyed the conveniences, skilled workers with professional qualifications become eligible for the city's hukou.
According to the circular, workers under the age of 45 with professional certificates for technician or higher, or workers under the age of 35 with professional certificates for senior worker can apply for Hangzhou hukou, if they have worked for the same employer for three consecutive years and have a lawful and stable residence. Moreover, honor and award recipients of various kinds, from nationally recognized operational experts to municipal-level model workers, are also qualified for application.
Starting from the beginning of 2017, provincial capital cities in China have been competing fiercely for the most valuable and hard-to-get resources - talents. In order to lure them away from first-tier cities such as Beijing and Shanghai, most of these capital cities resorted to three powerful weapons: money, hukou and housing.
The Xiacheng District of Hangzhou, for example, announced this March that it would grant an eye-popping 1 million yuan (144,887.6 U.S. dollars) relocation subsidy to doctorate holders it recruited from the world's top universities, and 800,000 yuan (115,910.1 U.S. dollars) for master's degree holders. Wuhan, the capital city of Hubei province, is building a talent community named Changjiang Young City, which will offer a 20 percent discount on its apartments to new graduates.
Hangzhou has temporarily outperformed its fellow competitors in this battle.
According to a big data report on the pay and flow of mid- and high-level talents in Q1 2018 released by a major online recruitment company, from Q4 of 2016 to Q1 of 2018, the top 3 cities by net talent inflow rate were Hanghzou, Changsha and Chengdu, with a rate of 13.6 percent, 10.24 percent and 10.19 percent, respectively. In 2017, when the competition for talents was in its most fierce stage, the permanent population in Hangzhou saw an increase of 280,000, while in 2016 the increment was only 170,000, according to the Statistical Bulletin of Hangzhou's National Economy and Social Development.
Email: limenglin@nbd.com.cn
Editor: Li Menglin