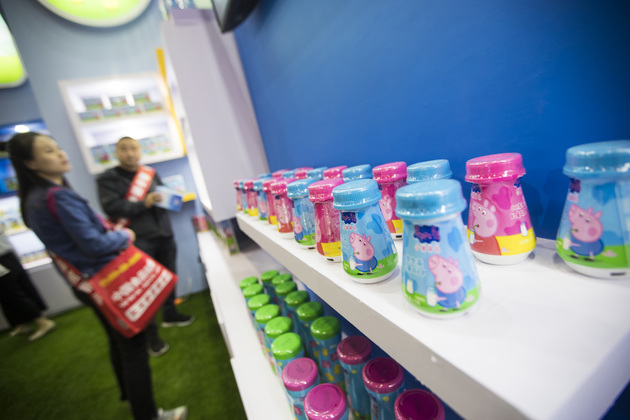 Photo/NBD
May.3 (NBD) -- China's video platform Douyin was reported to have removed a British Cartoon Peppa Pig from its app.
When reached by NBD for comments Tuesday, Douyin denied the news, saying that the company formulated related rules to regulate content released on its platform in line with the China's laws and regulations. But the company declined to disclose further details about its rules concerning information regulation on the platform. 
Directed and produced by Astley Baker Davies, Peppa Pig is a British animated television series for preschoolers. It has been introduced into China for more than a decade, and broadcasted 5 seasons, which is a popular animation rated at 9.2 points on social media platform Douban.
NBD noticed that the animation had won 13.44 billion views on iQiyi, 14.46 billion views on Youku, and 19.14 billion views on Tencent video platform v.qq.com.
However, it is not kids but social media that turn the animation into a hit. Currently, Peppa Pig is not only simply an animation character for kids, but a character that is endowed with deeper meaning by adults. For example, the character is also associated with girls who are cute and think positively.
Peppa Pig is a super IP that draws network traffic and money as well.
According to Entertainment One Ltd. (eOne), the IP holder of Peppa Pig, the animation bagged altogether 7 billion yuan (1.1 billion U.S. dollars) globally in 2016 alone. Moreover, sales revenue of Peppa Pig derivative products and copyright fees in China surged more than 700 percent year on year in the first half of 2017.
NBD noticed on online shopping website Taobao that 30,000 pieces of a 9.9-yuan Peppa Pig stickers can be sold in a month, which is the epitome of the popularity of the IP.
Popularity of Peppa Pig would be good for licensing partners of eOne. In mid March, Gdalpha.com and eOne came to an agreement to develop new toys, which will hit the market in the fourth quarter of this year. NBD learned from Gdalpha.com earlier this month that the company will bring products to the market on schedule.
Another product that has made a bundle is Peppa Pig books, said a publishing insider.
Anhui Children's Publishing House, who owns the publishing rights of the Chinese version of Peppa Pig, said that annual aggregated book price surpassed 100 million yuan (15.7 million U.S. dollars) in both 2016 and 2017. It is estimated that the set of Peppa Pig books may generate profits of 30 million yuan (4.7 million U.S. dollars) at least, which would be a miracle for publishing industry of children's books.
Email: tanyuhan@nbd.com.cn
Editor: Tan Yuhan