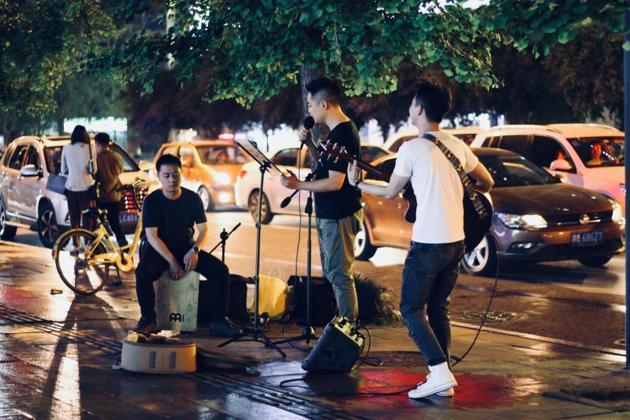 Photo/NBD
Apr. 26 (NBD) -- Southwest China's Chengdu started recruitment of street performers on 16 April, with attempt to provide performing chances for qualified street artists.
The move will give street performers in the city the opportunity to pursue music, Huang Ke, a member of the street artist community Panda Opera, told NBD during the rehearsal for the second-round interview of the recruitment.
It is reported that street artists with qualification will perform in 30 pilot venues. Those artists don't need to pay for the site use. Audiences can tip them by putting money into a violin case or using WeChat payment.
An artist surnamed Liu told NBD that a new platform is provided for street performers, saying that many street artists found themselves in difficulties in finding a fixed place to perform.
Street artists may also experience hard times from misunderstanding of other people or pressure from family members. Some people look through tinted glasses, regarding them as mere entertainers or even beggars, according to Huang. But for street artists, they perform on the street out of enthusiasm and expectation to build interactions between the music and audiences.
The recruitment displays Chengdu's inclusiveness in addition to its recognition and appreciation for street performers.
Chengdu is a city that boasts gene of music, a relevant person in charge of the Chengdu Music Industry Promotion Office noted.
The recruitment will attract various musical talents from all over the country to supplement the city's music industry chain and vitalize its music gene.
In fact, the music is part of Chengdu's cultural creativity gene as well.
Chengdu will become a major city of cultural creativity industry and create opportunities for the whole world, Chen Baili, deputy director of Commerce and Economic Development Bureau of Hong Kong said at the Promotion Conference of Chengdu Building a Cultural Creativity Center in Western China held in August last year.
At the conference, 14 cultural creativity projects were signed with a total value of 19.65 billion U.S. dollars.
According to data released by the news and information platform Jinri Toutiao in October, 2017, Chengdu's cultural creativity activities became the third most-followed topic, following Beijing and Shanghai in terms of attention, which reveals the cultural strength and glamour of the provincial capital.
To further expand presence in the cultural creativity domain, the city released new policies stipulating that Chengdu will establish a batch of projects and platforms with national functions and international influence, and the value added of the cultural creativity sector is projected to exceed 260 billion yuan (41.1 billion U.S. dollars), accounting for 12 percent of the city's GDP.
Email: zhanglingxiao@nbd.com.cn
Editor: zhanglingxiao