Apr. 10 (NBD) -- After being sued by PUBG Corporation, the developer of a multiplayer online battle royale game PlayerUnknown's Battlegrounds (PUBG), Chinese internet technology company NetEase announced it has prepared to safeguard the rights of two of its popular mobile games, "Rules of Survival" and "Knives Out".
NetEase denies copyright infringement
PUBG Corporation, a subsidiary of the South Korean publisher Bluehole Inc, argued that the two games of NetEase clone certain specific elements and overall outlook and feel of PUBG. The game developer also accused Netease of copyright infringement for marketing and advertising the games on social network platform like Facebook by using imagery and expressions similar to PUBG's.
PUBG Corporation filed a lawsuit against NetEase to a local court in Northern California of the United States, demanding the latter to take the allegedly infringing games offline and stop any further development of such games.
When PUBG was first released over a year ago, it became a instant hit. Since then, the last-man-standing battle games have witnessed an explosive growth in 2017. Internet technology giants like Tencent, NetEase and Xiaomi successively started to develop battle royale games.
"Rules of Survival" and "Knives Out" developed by NetEase stood out from the crowded competition. Those two games diversified the company's revenue streams, according to NetEase's financial report for 2017. Mobile store intelligence platform Sensor Tower estimated that in February this year, " Knives Out" reaped 24 million U.S. dollars in revenue globally.
In response to PUBG Corporation's complaint, NetEase released an announcement, saying that battle royale games are much welcomed by players and belong to a category which is popular, profound and derivative. NetEase, as one of the first developers of battle games, has devoted much creative and inspirational ideas to the original development of such games, said the announcement.
But it's noticed that NetEase hadn't directly responded to the infringement accusation claimed by PUBG Corporation.
An analyst of game industry said to NBD that the lawsuit against NetEast would affect, to some extent, the company's revenue and stock price. But since "Rules of Survival" and "Knives Out" were not as heavy weighted as NetEase's blockbuster Onmyoji (Yin Yang Master), the company wouldn't be severely influenced even it lost the lawsuit, the analyst noted.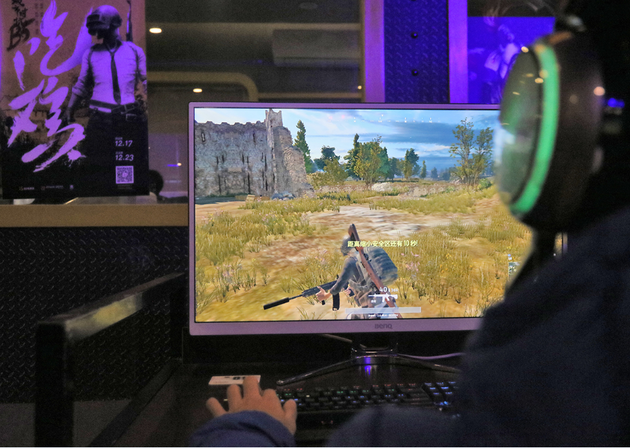 Photo/VCG
Game companies face challenges in locating profit model
The lawsuit also reveals the state of battle games being homogenous and difficulties in making profits out of those games in China.
Earlier this year, Tencent cooperated with PUBG Corporation to launch two mobile games, "PUBG: Thrilling Battlefield" and "PUBG: Army Assault". Currently, the two PUBG games took the second and third place on the list of free ios games, while "Knives out" was moved to the 16th place.
An analyst who wants to remain anonymous said to NBD that games have its life cycle and the mobile battle royale games almost come to its end. Although NetEase has successfully grabbed its share of user traffic, yet it's challenging to capitalizing on such traffic before the lifetime of a game expires.
According to the most updated financial report of Tencent, the two new mobile games of PUBG haven't been commercialized and the PC-version PUBG game for which the company has been granted the exclusive agency in China is still under close beta test.
With regard to the profit model of battle games, the anonymous analyst explained that a good product should be supported by a sound ecosystem, but the mobile battle games don't have advantages in terms of making profits. As the market is divided by too many game developers, the products become increasingly homogenous and game players are scattered on various platforms. Most importantly, players are losing interests in such games, the analyst added.
An industry insider highlighted the importance of user experience in retaining players, warning that game companies should keep a balance between making profits and maintaining satisfying user experience in order to avoid customer loss.
Email: gaohan@nbd.com.cn
Editor: Gao Han