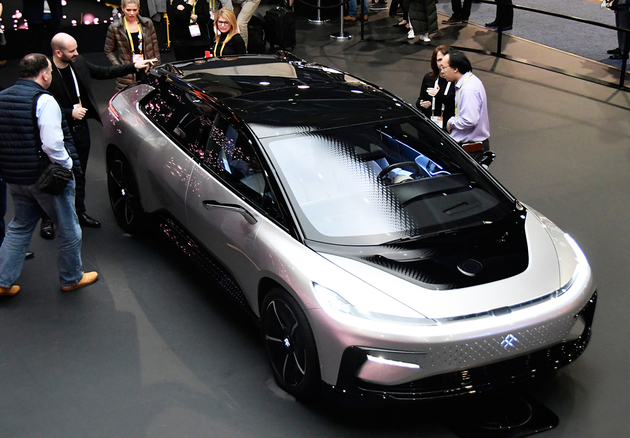 Photo/VCG
Apr. 9 (NBD) -- Jia Yueting's EV dream may be one step closer as Ruichi Intelligent Automobile Co. Ltd. (Ruichi), which is believed to have connections with Faraday Future, has won the bid for a piece of industrial land in Guangzhou.
The Guangzhou-based smart car maker has gained the right to use a 99-acre plot of land in Nansha District of Guangzhou at 364.1 million yuan (57.7 million U.S. dollars), according to the official website of the Guangzhou Public Resources Trading Center.
Ruichi required to introduce EV assembly project
The land is numbered 2018 NGY-2 and Ruichi has paid a deposit of 72.82 million yuan (11.5 million U.S. dollars) for it.
The company later will be asked to submit more materials and further reviewed by the authority, according to the land resource and planning commission of Nansha District.
NBD noticed that the land should be only used for industrial purposes with investments of no less than 8,274 yuan (1,311.0 U.S. dollars) per square meter.
According to rules related to the land use, the bid winner has to introduce a world-class electric car assembly project within a month after the bidding and get market access approval from the authority within five quarters after the kick-off of the project.
FF to produce cars in China?
After running through the National Enterprise Credit Information Public System, NBD found that Ruichi is built in 2018 with registered capital of 300 million U.S. dollars and mainly engages in automobile sale, auto parts design, auto repair tool design, and other services.
The sole shareholder of Ruichi is Smart Mobility (Hong Kong) Holdings Limited ("Smart Mobility"), which was formerly known as FF Hong Kong Holdings Limited and owns a 95 percent stake in Faraday Future (China) Co., Ltd.
Founded in 2017, Faraday Future (China) is led by Wang Jiawei who happens to have the same name with the nephew of Jia Yueting. What's more, The Verge reported last December that Jia had transferred the controlling shares in his electric vehicle startup Faraday Future (FF) to his nephew, Jiawei Wang.
Also, it is noteworthy that the official Weibo and Wechat Account of FF are run by Faraday Future (China), which makes the assumption more sensible.
In other news, according to people close to Evergrande Group, the company's Chairman Xu Jiayin might be a backer of FF, Tencent news portal reported. But when reached by NBD, a person-in-charge with the company said he didn't know.
Email: tanyuhan@nbd.com.cn
Editor: Tan Yuhan