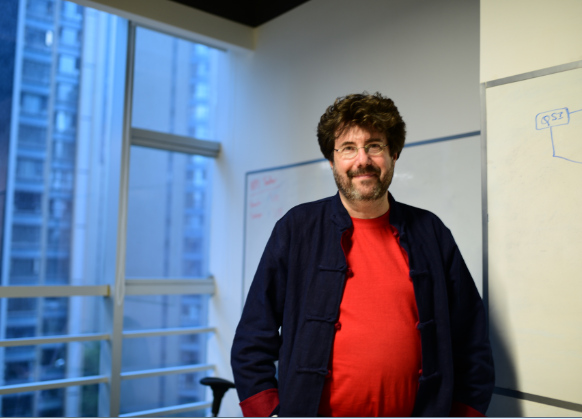 Photo/Tan Yuhan
Apr. 4 (NBD) -- "The biotech industry has great potentials in terms of products that can come out," Robert S. Marks, Professor at the Department of Biotechnology Engineering, the Ben-Gurion University, told NBD Tuesday before the opening of an event hosted by Startup Grind, a global startup community designed to educate, inspire, and connect entrepreneurs.
An analysis report on biotech investment by Forbes says that venture capitalists poured 2.8 billion U.S. dollars into biotech startups in the first two months of this year, investing more than they did in all of any year before 2014.
According to PitchBook, a SaaS company that delivers data, research and technology covering the private capital markets, last year saw biotechs raise 9.3 billion U.S. dollars in 471 deals, making it the best year out of the last seven when it comes to volume.
Marks believes the investing momentum will remain strong this year, and "money will flow to successful products that are ready to grab market shares".
Also a serial entrepreneur in the niche segment of biosensor, Marks is seeking money for his project in Southwest China's Chengdu.
"Chengdu has sophisticated biomedical and electronic information infrastructure, creating great room for the growth of biosensors," Anthony Turner, Chairman of the World Congress on Biosensors, said to NBD at last year's China-EU Business and Technology Cooperation Fair.
The global biosensor market is experiencing fast growth and is predicted to reach 22.5 billion U.S. dollars by 2020 from 12.9 billion U.S. dollars in 2014, with an annual compound growth rate of 9.7 percent, according to a report by the world's famous market research company Persistence Market Research.
"The city and its surrounding areas have a number of incubators and have built a lot of facilities to boost the development of the biotech industry," Marks told NBD. "It is great for the governments to put a lot of money in the industry, but more work should be done beyond buildings to promote the sector," he noted from the perspective of a scholar.
"Both governments and investors should be more patient and more sustainable in supporting the growth of emerging sectors, which is the right way to develop the industry," he suggested. Not only so, "investing in the right place and distributing the money reasonably" are also very important.
Email: lansuying@nbd.com.cn
Editor: Lan Suying