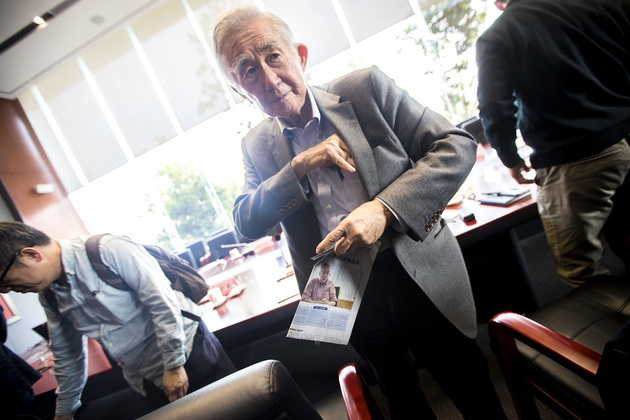 Photo/NBD
Mar. 13 (NBD) -- Every city is desperate to create its own unique feature, and the landscape, in fact, is the unique characteristic that distinguishes itself from other cities.
Liu Thai Ker, who is known as Singapore's "master planner" and noted for his influence on the country's urban landscape, made the remarks at the international review session of "Unicorn Island" design schemes and themed salon held Saturday at Tianfu New Area, Southwest China's Chengdu city.
In Liu's view, no two cities could have identical landscape, so people should first learn how to respect and protect the ecological resources.
Top planners present also include Cui Kai and He Jingtang, both of whom are academicians of the Chinese Academy of Engineering.
Of the eight shortlisted design organizations, five have laureates of the Pritzker Prize, which is lauded as the Oscars of the architecture industry.
On the sidelines of the event, NBD conducted an interview with Liu. His viewpoints are expected to boost Chengdu's efforts in building itself a beautiful livable garden city.
Liu gave simple but insightful answers as usual, which are fundamental rules that a city should follow.
He said he has read some documents on the "Unicorn Island" project before coming to Chengdu. People have high expectations on it and he thinks the project will turn out well too.
When it came to the question of how a park city can be livable, Liu noted that respecting and preserving environment is a prerequisite. Through building a well-functioned independent city, unnecessary commutes can be reduced, which in turn eases congestion, cuts emissions and improves people's well-being and quality of life.
As noted by Liu, city planning entails cross-disciplinary knowledge, such as demography, resources and transportation science. Demography, in particular, has been a recurring topic that he has mentioned.
Chengdu is recompiling its city master plan, expecting to keep its permanent population within 23 million by 2035, on par with the level of Beijing and Shanghai.
With this regard, Liu shared his insights on the population management and ways to help Chengdu prevent from being an overcrowded city.
Email: lansuying@nbd.com.cn; tanyuhan@nbd.com.cn
Editor: Lan Suying