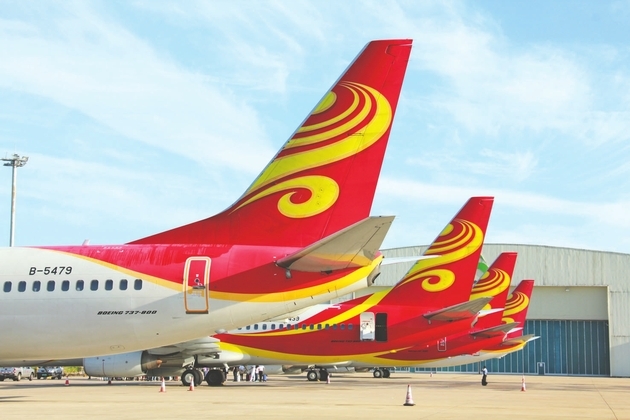 HNA Group, the parent company of Hainan Airlines, plans to play a bigger role in advancing transportation services next year for multilateral cooperation in countries along the Belt and Road Initiative areas, its CEO Huang Qijun said.
"We will launch more routes connecting China with the Belt and Road countries, help our counterparts build and manage airports to improve local transportation services and introduce high-end tourism routes with distinguished Silk Road features," Huang said.
Three years ago President Xi Jinping proposed the Belt and Road Initiative, which includes the Silk Road Economic Belt and 21st Century Maritime Silk Road, to promote multilateral development of the linked regions. The initiative has since witnessed tangible commitments by China, including the launch of a New Silk Road Fund worth 40 billion US dollars in late 2014.
"Infrastructure is the key to successful implementation of the initiative. HNA will actively engage itself in helping address problems such as under-investment in aviation facilities in the Belt and Road areas," said HNA's Huang.
HNA operates 1,250 aircraft, on about 1,000 routes connecting more than 260 cities around the globe. Haikou-based HNA, which made its first flight in 1993, has become a transnational giant boasting 600 billion yuan (86.34 billion US dollars) of assets and about 200,000 employees at home and abroad, according to data from the company.
"With a diversified structure, HNA's business now ranges from aviation, finance, real estate, logistics, hospitality and tourism and ecological technology. It was ranked No. 353 of Fortune's 500 companies in 2015," Huang said.
He said Hainan Island was a vital supporting point for the Belt and Road countries. The group would, he said, further strengthen the capacity of Haikou Meilan International Airport as an international hub to better link with countries in Africa and South Pacific.
"We will also help upgrade the infrastructure and services levels of the aviation, tourism, hotels, cruisers, and duty free service sectors of Hainan as a top international resort," Huang said.
As per the latest official estimates, the total number of tourists in Hainan was expected to reach 60.3 million in 2016, an increase of 13 percent on 2015.
"The Hainan provincial authorities are conducting feasibility studies on developing a free trade zone with ASEAN countries," Huang said. "HNA, the Chinese enterprise behind Hainan airline, will make its best efforts to help promote the plan."
He Dongni, vice-president of the Haikou-based China Institute of Reform and Development, said HNA had won international recognition by developing a diversified business model and through timely acquisitions of a string of overseas assets which highlighted its localized management.
HNA's practice had set a good example for Chinese enterprises in going global.
"Especially its innovations in the application and drafting of standards, upgrading of technologies, management, services, green development concepts and performance in conducting social corporate responsibilities," He said.
The group had a strong advantage in playing a leading role in contributing to the Belt and Road Initiative projects, He added.
Editor: Zeng Yunheng