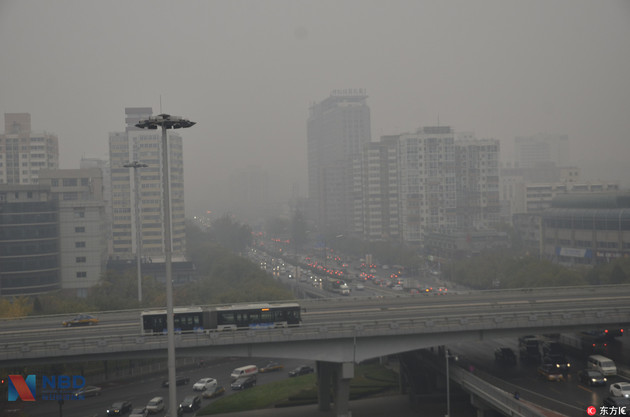 BEIJING, Nov. 22 (NBD)-- Beijing has on Monday tightened restrictions on gas-burning vehicles to further curb air pollution.
According to the newly revised "Beijing Heavy Air Pollution Emergency Response Plan", starting from Dec. 15th, 2016, when air pollution hits orange or red alert, light gasoline vehicles of China I and II Emission Standards shall be banned throughout the city. Furthermore, as from Feb. 15th next year, those vehicles will be thoroughly banned within the Fifth Ring Road (not included) on workdays.
Nagged by the heavy pollution, the authorities have been inspecting the roots. Chinese Ministry of Environmental Protection found out the vehicle emission constitutes the major source of polluting particulate matters, accounting for 31.3% of the local average level, even up to over 50% under severe air pollution. And particulate matters and nitrogen oxide emission from the heavy diesel vehicles take up 90% and 60 % of the total vehicle emission, respectively.
An officer from the air pollution control department under Chinese Ministry of Environmental Protection said, "the next move is to tighten the supervision and inspection on heavy diesel vehicles, to carry forward the replacement of yellow label cars (heavy polluting cars) and old cars, and to accelerate the research and formulation of China VI Emission Standards."
In fact, the Plan also mentioned the replacement plan for vehicles of China I and II Emission Standards. The local government gives subsidies to encourage owners to replace their light gasoline vehicles of China I and II Emission Standards for lower emission options. The sooner the replacement happens, the larger the subsidy can be. Take a minibus for example. If it is replaced by end of next June, one can gain a subsidy ranging from 10,000 to 12,000 Yuan. And if it is replaced between next July and December, the subsidy will be 8,000 to 10,000 Yuan.Enditem
Editor: Gao Han