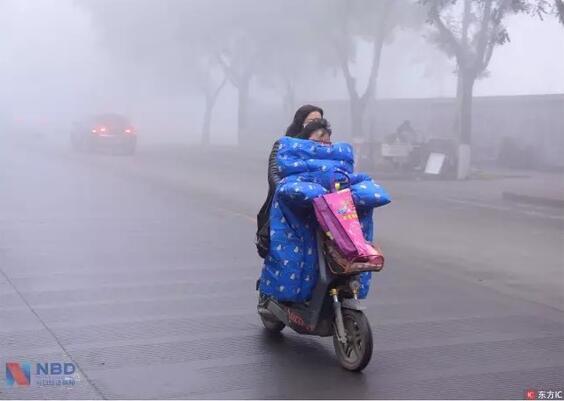 SHIJIAZHUANG, Oct. 22 (NBD) – Economic interests or environmental protection? A cliché choice question that Shijiazhuang, some 263 kilometres southwest of Beijing, gave its own answer.
On Sunday evening, North China Pharmaceutical Group Corporation (NCPC) announced that according to a notice issued by the capital city of north China's Hebei Province, all the pharmaceutical companies in the city had been halted from production and shouldn't been resumed without a government's approval. NCPC and all its subsidiary companies in the city were affected. The next day, NCPC and China Shijiazhuang Pharmaceutical Group Co., Ltd. (CSPC) were under suspension of trading on the share markets. The former worried about if they were not allowed to resume production until end of this year, they would "lose some 50 million Chineseyuan in the API's part", while the latter said they were "submitting application for resumption of daily operation to the municipal government".
The spokesperson of China Shineway Pharmaceutical Group Ltd. confirmed with NBD reporter that the company has suspended production after the notice were received, they were not sure about the exact resume date. NBD reporter also inquired the situation of Shijiazhuang Yiling Pharmaceutical CO., LTD., but received no answer from the company at the time when the news story published.
According to the notice, the local government also halted seven major industries in the city, including chemical engineering, packingand printing and furniture, started from Nov. 17th to the end of this year.
Differing from producing antibiotics, the traditional Chinese medicine pharmaceutical companies are not regarded as the major "contributors" to air pollution due to its limited emission. Shi Lichen, in charge of Dingchen Pharmaceutical Management Consulting Centre, suggested that the halting notice should not indiscriminately impose on different pharmaceutical companies, those with limited emissions should apply for resumption immediately to reduce side effects on whole-year performance.
The price of Vitamin C could be affected by the government's move as CSPC ranks the biggest Vitamin C producer while NCPC ranks 7th in China. Zhongtai Securities analyzed that as the producing volume of Vitamin C decreased, the price of Vitamin C could rise, the rising range would depend on how long the halting notice imposed on those pharmaceutical companies. Enditem
Editor: Gao Han