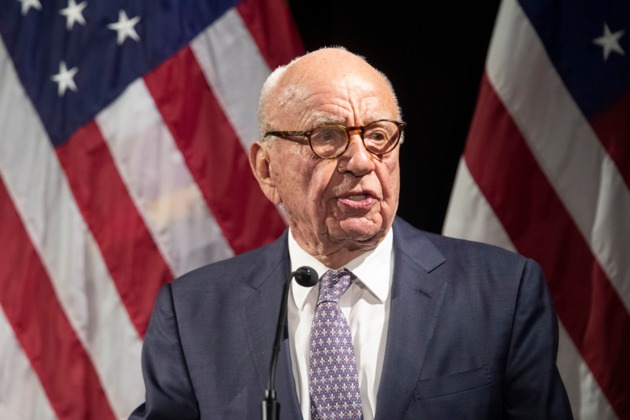 Photo/VCG
Rupert Murdoch, 92, has announced that he will step down as chairman of both News Corp and Fox Corp in November this year, becoming honorary chairman of the two companies. His eldest son Lachlan Murdoch will take over as sole chairman of News Corp and continue to serve as executive chairman and CEO of Fox Corp.
Mr Murdoch is perhaps the most powerful figure in modern media, with his newspapers, TV stations and film studios spanning three continents. His key assets include The Wall Street Journal, New York Post and Fox News in the US, The Times and Sky News in the UK, and several major newspapers and TV stations in Australia.
The origin of his media empire can be traced back to Australia 70 years ago. In 1952, his father, who owned a small newspaper company, died of illness. Mr Murdoch, who was studying at Oxford University at the time, rushed back to Australia to take over the family business. From there, he embarked on his international acquisition and expansion journey.
In 1968, he entered the UK market, buying the tabloid News of the World, followed by The Sun, which he transformed into a tabloid covering celebrities, gossip and pop culture, boosting its circulation. He later acquired the prestigious The Times, cementing his dominance in the UK news industry.
In the US, he bought the New York Post in 1976, starting a series of newspaper and magazine acquisitions. In 2007, he paid a 67% premium and a total of $5 billion to buy The Wall Street Journal's parent company Dow Jones & Co., and invested heavily in its news reporting and digital transformation. The Wall Street Journal said on September 21 that Mr Murdoch's decision saved the paper from decline, improving its profitability and subscription numbers.
On the other hand, he ventured into Hollywood in the 1980s, acquiring Twentieth Century Fox Film Corporation and a number of TV stations, laying the foundation for the launch of Fox Broadcasting Company in 1986. In 1985, to comply with US law prohibiting foreigners from owning large stakes in US broadcasting industries, he renounced his Australian citizenship and became a US citizen.
In 2013, he split his huge media empire into two companies: News Corp, which mainly owns publishing assets, and 21st Century Fox, which mainly owns entertainment assets. Five years later, he sold most of his stake in 21st Century Fox to Disney for $71 billion, leaving behind assets that were merged into the newly formed Fox Corp. As subsequent entertainment giants struggled, the deal was seen as visionary.
Mr Murdoch's most prominent move in the US media industry was the creation of Fox News. In 1996, with the help of Roger Ailes, a TV executive who was active in Republican politics, Fox News was born and surpassed CNN in ratings within six years.
The news channel has a profound impact on US Republican voters. Former US President Donald Trump was one of its loyal viewers. Given its influence, some commentators have said that Mr Murdoch even has the key power to sway presidential elections. However, critics have also pointed out that Fox News' news editing and opinion output methods have deepened the vulgarity and polarization of US political discourse.
Sensational news reporting and distinctive positions are features of many of Mr Murdoch's media outlets. Although they have achieved high circulation, they have also brought a lot of trouble. Voting company Dominion Voting Systems sued Fox News for defamation, claiming that Fox News hosts and guests spread false news about Dominion's involvement in fraud in the 2020 US election. Fox News eventually agreed to settle with Dominion for $787.5 million. The incident resulted in the dismissal of popular host Tucker Carlson.
Mr Murdoch's decision to step down as chairman of both giants does not mean that his media empire has completed its handover task. According to The New York Times, under a plan Mr Murdoch made nearly 20 years ago, his four eldest children will have equal voting rights after his death. A succession battle may still erupt, perhaps more exciting than Succession, the drama that depicts his family affairs.
Editor: Alexander