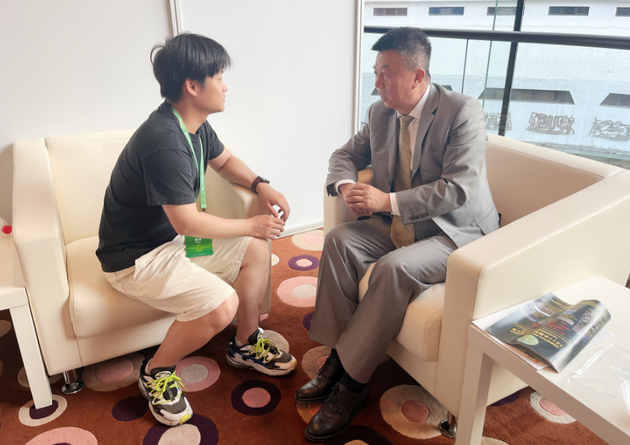 He Zhenwei (R) Photo/provided to NBD
On June 16, the 13th China Overseas Investment Fair (referred to as "the Fair") was held in Beijing.
This year's Fair focused on the tenth anniversary of the "Belt and Road" initiative and the next decade, bringing together various parties to build a platform for communication, exchange ideas, and create new opportunities for cooperation.
How can Chinese companies go abroad to achieve win-win cooperation, and what are the most noteworthy aspects of the "Belt and Road" projects? With these questions in mind, a reporter from National Business Daily (NBD) interviewed He Zhenwei, the President of the China Overseas Development Association (CODA), at the fair.
Adapting to international demand crucial for overseas investment
NBD: How do you view Chinese companies investing overseas, and what are the directions and priorities of Chinese companies investing overseas?
He Zhenwei: The concept of Chinese companies going abroad began around 2000. Initially, Chinese companies were also feeling their way forward because many of them were going abroad for the first time and did not have experience in international cooperation.
After 23 years of development, I think Chinese companies going abroad now have accumulated some experience, or rather, everyone has had good cooperation internationally. These experiences have been accumulated in the actual development process, and there are both failed and successful cases of overseas investment.
Looking back on more than 20 years of foreign investment history, we have gone from small to large, from nothing to something. At the beginning, our foreign investment was mainly focused on energy, mineral resources, and infrastructure construction. Later, the categories of Chinese companies going abroad became more and more diverse, and now new energy, manufacturing, culture, health care, and other industries are going abroad, with Chinese companies going abroad in almost 18 categories.
My personal advice for Chinese companies investing overseas is that the most important thing is to adapt to the current international demand for investment, which is low-carbon development and green investment. We must now transform, and the previous high-energy consumption and extensive investment is no longer feasible. We must adapt to the investment demand of the new era, and everything must focus on environmental protection and ecological priority.
Another point is to pay attention to localization. Any investment must be combined with local industries, companies, or culture to go further. It is not feasible to ignore local partners.
Biggest highlight of "Belt and Road" is connectivity
NBD: Currently, many "Belt and Road" cooperation projects are being carried out in an orderly manner. What do you think are the highlights and bright spots?
He Zhenwei: I think the biggest highlight is connectivity. Taking the China-Laos railway as an example, this is the benchmark project of the "Belt and Road" cooperation project, which solves the problem of no railway between the two sides and will play a great role in the future.
In fact, this is equivalent to what China says "to get rich, first build roads". We apply this experience to the "Belt and Road" project, so that more countries along the route can experience the results brought by the "Belt and Road" project, which is connectivity.
Another example is the China-Kyrgyzstan-Uzbekistan railway. After it is completed, China can not only connect with Central Asian countries by railway, but also connect with Europe through Central Asian countries. We have one more mainline to Europe, which is beneficial for everyone's connectivity.
NBD: How do you think entrepreneurs should help the implementation of the "Belt and Road" initiative?
He Zhenwei: If we want to achieve the success of the "Belt and Road" initiative, we must have a localization mindset and bring real benefits to the local people, which will also make the "Belt and Road" initiative more responsive.
Therefore, Chinese entrepreneurs must pay attention to social responsibility, especially overseas. Entrepreneurs' words and deeds not only represent themselves and their companies, but also represent China. They should let local people see the benefits they bring and fulfill their social responsibilities.
We can see that many companies have built kindergartens and donated hospitals to the locals. This is a spiritual cooperation and cultural integration with the countries along the "Belt and Road". Only in this way can the "Belt and Road" initiative be deepened and implemented.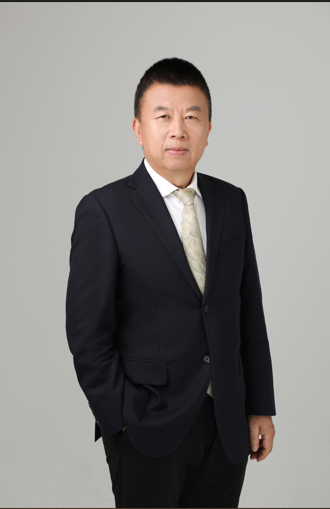 He Zhenwei Photo/provided to NBD
Chinese companies should take the lead in technology when going global
NBD: This year, ChatGPT has become very popular. What impact do you think artificial intelligence, represented by ChatGPT, will have on enterprise globalization?
He Zhenwei: The application of artificial intelligence such as ChatGPT indicates that the world will enter an era of intelligence, which is the general trend.
Chinese enterprises should take the lead in technology and bring our most advanced technology abroad. This will not only help our technology to be more widely promoted and applied, but also promote and drive technological upgrading.
NBD: Some people believe that the domestic market competition is fierce, and some enterprises choose to go global. Is overseas competition still intense?
He Zhenwei: Relatively speaking, domestic competition among peers is very fierce, and many people can do the same technology. Therefore, some enterprises choose to go out and open up new battlefields. Now Chinese enterprises have reached more than 180 countries. Although there may be competition after going abroad, most of it is competing with foreign enterprises, so the advantages of Chinese enterprises will be better utilized.
Editor: Billy