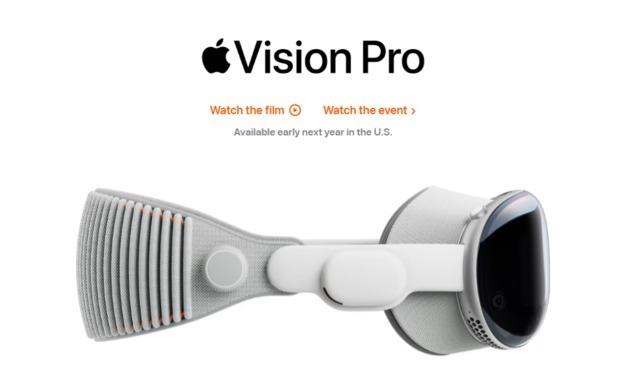 Photo/Apple Website
On June 6, Apple released the highly anticipated MR headset Vision Pro, which is its first hardware since the launch of AirPods in 2016 and is widely regarded as one of Cook's most important products during his tenure.
Although keywords such as "awesome!" and "mind-blowing!" are frequently seen as first-try experiences of Vision Pro on the internet, there are also many testers who have come forward to criticize its dizziness and lack of immersion. And Zuckerberg himself, who should have been on guard, said that the Vision Pro has not made any significant breakthroughs.
Unexpectedly, less than 3 days after its release, Apple has lowered Vision Pro's sales target for the first year from 3 million to 150,000 units, down 95% yoy. In addition, Vision Pro's shipment has been postponed until early 2024, which is half a year later than this release time.
Counterpoint Research analyst Tang Ding told NBD that Apple's MR products may follow the development timeline of the iPhone and gradually mature with hardware technology and software ecology. However, the starting time of MR products may be longer than that of the iPhone.
According to The Wall Street Journal, from 2012 to 2017, Apple's new products took an average of 23 days from release to shipment. Before 2011, this time was only 11 days.
So why are Apple's product shipments frequently delayed? According to previous media reports, Apple's large user group has increased its logistics and manufacturing challenges. At the same time, its supply chain needs more accessories than before. In particular, Vision Pro's manufacturing process is extremely complicated. The curved front glass on the headset is more fragile than the flat glass on the iPhone and requires engineers to adjust repeatedly. The thin frame must accommodate lenses, displays, dense electronic components, and carbon fiber fillers at the same time. It is very difficult for workers to assemble it. The yield rate of Vision Pro in the early stage of production was only 20%.
Counterpoint Research analyst Harmeet Singh Walia expressed his pessimism about Vision Pro sales. He said: "Although Apple will bring Meta its biggest challenge, it cannot surpass Meta in terms of shipments." Taking Oculus Quest launched by Meta in October 2020 as an example, it has shipped more than 10 million units by the end of 2021 according to public data learned by NBD.
Vision Pro costs as much as $3,499 (about RMB25K), far exceeding expectations. Although the price is already very high, customers need to pay an additional fee of up to $600 for customized lenses, suitable sizes, and additional batteries if necessary.
Even with a shipment volume of only 150K units at present prices, Vision Pro will bring Apple $525 million in revenue. However, Tang Ding believes that "from feedback from the industrial chain side, it is estimated that the output of this Apple Vision Pro is about 300-500K units. The significance of its release does not lie in sales or revenue as it is probably mainly aimed at developers.
Wedbush Securities Managing Director Dan Ives told NBD that the initial shipment of about 150,000 units was normal because it was currently a product for developers. "By 2025, the price of Vision Pro will be around $1,500 (approximately RMB 10,692)."
Editor: Alexander