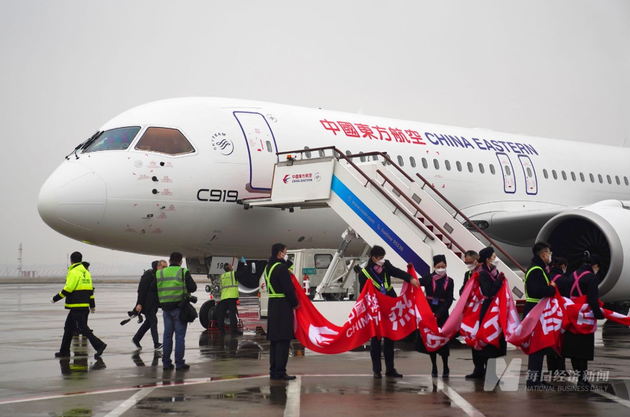 File photo/Cong Sen (NBD)
On May 28, China's domestically-produced C919 large passenger aircraft successfully completed its first commercial flight. Starting from May 29, the C919 was put into regular commercial operation on the Shanghai Hongqiao-Chengdu Tianfu route.
Many passengers on the MU9197 flight came specifically to experience the C919. Mr. Chu came from Nanjing to Shanghai on the 28th. He said that he usually takes planes more often due to work reasons, and now that the C919 can operate commercially, he must come and experience it.

"I hope that the aircraft developed by our country will fly better and better," Mr. Chu said.
Photography enthusiast Mr. Zhang has witnessed the "growth" of the C919, from its first flight in 2017 to its delivery. Now that the C919 is in normalized commercial operation, he has finally boarded the domestically-produced large aircraft.
For Deng Junjie, a freshman from Guangzhou, taking the C919 is a "dream come true." He has been paying attention to the C919 since the third grade of elementary school. He remembers seeing a special report at that time, and since then, he has had a dream of taking the C919.
"The country has united to develop large aircraft, and today we have this achievement, which is very worthwhile for us to experience," Deng Junjie said.
According to Xinhua News Agency, on June 8th, the second C919 passenger aircraft planned to be delivered to China Eastern Airlines successfully completed its first flight and entered the verification and test phase.
It is expected to be delivered in mid-June. The other three C919s in China Eastern Airlines' first batch of orders will be delivered in the next two years. Currently, the global orders for the C919 have reached 1,061 aircraft.
Editor: Billy