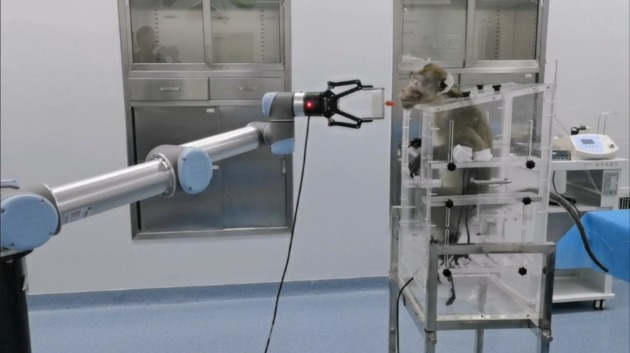 Photo/Nankai University
The world's first interventional brain-computer interfaces experiment in non-human primates was successfully completed in Beijing on Thursday. Through an interventional BCI installed in a monkey's body, experimenters were able to control a mechanical arm.
The test was jointly conducted in Beijing by a research team of Nankai University led by Professor Duan Feng, the Chinese PLA General Hospital, and Shanghai HeartCare Medical Technology (06609. HK).
In comparison with Elon Musk's Neuralink and Synchron, the test is similar to the latter, which does not require a craniotomy and the removal of large chunks of the skull.
On May 5, Zhang Han, chief financial officer of Xinwei Medical, told the National Business Daily (NBD) that intracranial stents, which are usually used for neuro-interventional surgery, only function as stents. In the brain-computer interface designed by the company for this experiment, EEG acquisition device is added to the existing intracranial stent. Through the additional device, EEG signal is transmitted and decoded by the in vitro instrument. Thus, the manipulator can be controlled.
According to "White Paper 2021 on Standardization of Brain-Computer Interface" (hereinafter referred to as "White Paper") released by the China Electronics Standardization Institute, the global brain-computer interface market reached 1.18 billion US dollars in 2019, of which the non-invasive brain-computer interface market reached 1.025 billion US dollars. The global brain-computer interface market is expected to reach $3.69 billion by 2027, with an expected CAGR of 15.5% (2021-2027).
NBD learned that, at present, including iFlytek and many other head technology companies, have been involved in brain-computer interface technology research and development hand in hand with research institutes.
It is worth noting that since a complete brain-computer interface system usually includes four parts: signal acquisition, signal processing, computer or other equipment, and feedback link, almost no enterprise can fully get involved in all aspects.
The industrial application of scientific research is not easy. NBD noted that as early as in 2014, for the first time the first Chinese patient used an intracranial electrode implanted in the brain to control the manipulator, and successfully completed the difficult limb movement -- "rock, paper, scissors". But nine years later, the industrialization of the brain-computer interface still needs to be expanded.
At the beginning of this year, Han Bicheng, founder and CEO of BrainCo, said that the industrialization of brain-computer interfaces faces challenges, such as price, product rate and stability, but the biggest difficulty is the cultivation of talents.
Compared with the United States, China started to engage in the research of brain-computer interfaces relatively late. This industry needs wide attention from both policymakers and universities so that brain-computer interface talents can be trained systematically. In Han Bicheng's opinion, it will take at least ten years from the research technology to industrial application. 
Editor: Alexander