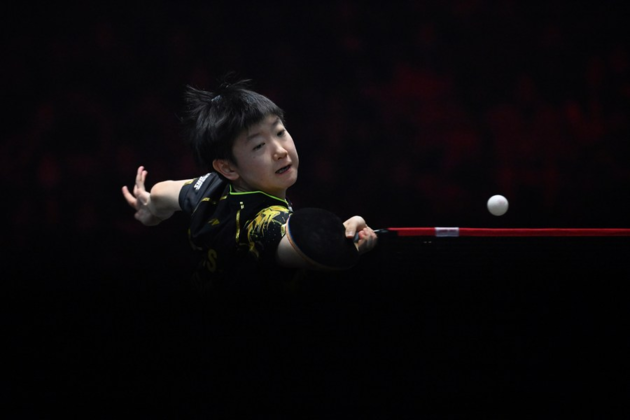 Sun Yingsha at WTT Singapore Smash (Photo by Then Chih Wey/Xinhua)
On March 19th, the 2023 WTT (World Table Tennis Professional League) Singapore Smash tournament came to an end, and the Chinese table tennis team took all five titles in the men's singles, women's singles, men's doubles, women's doubles and mixed doubles. Among them, Sun Yingsha won three championships alone.
In the women's singles final, Sun Yingsha defeated her teammate Qian Tianyi 4:1 to win the championship. In the first inning, Sun Yingsha took the lead; in the middle stage of the second inning, both sides were tied in score. At a critical moment Sun Yingsha served into the net and Qian Tianyi won back one inning with a score of 12:10; afterwards Sun Yingsha continued her good state and won three inning in a row to defeat Qian Tianyi with a score of 4:1 to win the women's singles championship. The scores for each inning were 11:7, 10:12, 13:11, 11:6, 11:7.
In the men's singles final, Fan Zhendong and Ma Long faced off in the duel. In the first inning, Fan Zhendong quickly won; in the second inning Ma Long once took lead but Fan Zhendong came from behind to win 13:11; in the third inning Ma Long seized his opportunity to win back with a score of 11:8; in the fourth and fifth inning, both players fell into fierce battle but Fan Zhendong won both with scores of 11:9. Ultimately, Fan Zhendong defeated Ma Long with an overall score of 4:1 and take home the men's single championship.  
In previous matches Fan Zhendong/Wang Chuqin defeated Korean pair Jang Woojin/Lim Jonghoon with a score of 3-1 to win men's double championship; Sun Yingsha/Wang Manyu defeated teammates Chen Meng/Wang Yidi with an overall score of 3-2 to stand on top podium, and Wang Chuqin/Sun Yingsha won mixed double championship.
Editor: Lan Suying