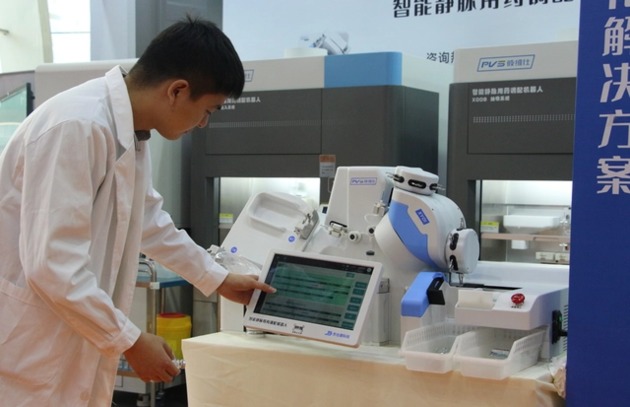 Photo/Organizer of the event
March 10 (NBD) -- The 28th Chengdu Medical and Health Expo is held at Chengdu Century City International Convention and Exhibition Center from March 9 to 11.
With an exhibition area of 36,000 square meters, the expo gathered 800 enterprises and attracted hundreds of industry experts to share their insights on the development of the medical industry. Five themed forums are also held during the expo.
It is noticed that the event was supported by the city's market and health regulator. During the event, new concepts, technologies, and products representing the latest medical advances are unveiled.
In addition to familiar industry brands, cutting-edge high-tech enterprises represented by the local robot industry also unveiled highly competitive new products -- intravenous drug dispensing robots, attracting a large number of spectators and industry experts.
Among them, three intelligent dispensing robots representing the industry's top technology level were publicly released at the medical expo for the first time. They are the 8th generation of syringe dispensing robots, the latest generation of desktop syringe dispensing robots and the brand new "precise dispensing robots". The 8th generation of syringe dispensing robots has the highest efficiency in the industry, with a dispensing capacity of 400 sets per hour, which is five to six times that of manual work.
It is learned that the "precision dose dispensing robot" has independent intellectual property rights, filling the gap in the industry worldwide. It can control the error within 0.1ml, which will better serve the safety of infant medication.
At present, the series of Chengdu-made dispensing robots have been successfully applied in many medical institutions in China, empowering the medical industry and the majority of medical and patient groups.
Editor: Tan Yuhan