Mar. 6 (NBD) -- The Re:Think Sustainable Cities Conference Chengdu was held at Business & Innovation Centre for China-Europe Cooperation in southwest China's Chengdu on March 6. 
With a theme of "Designing Resilient Cities of the Future", the conference, organized by the United Nations Development Programme (UNDP) and Management Committee of Chengdu Hi-Tech Industrial Development Zone, brings together policy makers, urban designers, urban managers, city development experts, community builders and public crisis managers to discuss efficient ways to make cities more tolerant, more intelligent and more resilient. 
In the media interview conducted on the sidelines of the event, Beate Trankmann, resident representative of the United Nations Development Programme (UNDP) in China, shared her views on the building of urban resilience, significance of resilient cities to China's development and sustainable development goals (SDGs), and Chengdu's moves to facilitate sustainable development.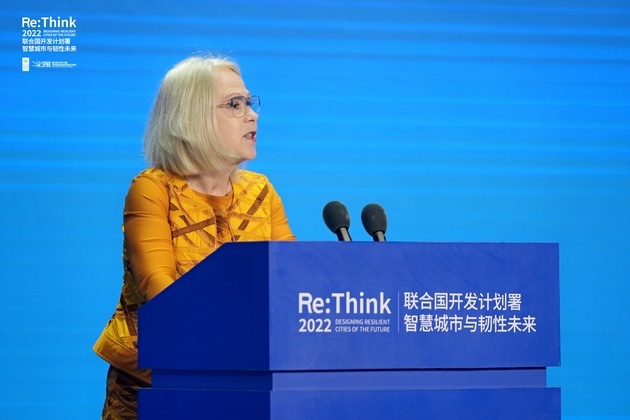 Beate Trankmann at the Re:Think Sustainable Cities Conference Chengdu (Photo provided by UNDP to NBD)
Urban resilience matters a lot to SDGs
Ensuring cities are resilient to the changes and challenges to come is vital to China's future and economic development, Ms. Trankmann underscored. 
This can be easily understood from the following figures. 
According to Ms. Trankmann, in China, more than 64% of the country's population lives in cities, and before the pandemic, urbanization was on pace to exceed 70% by 2030 – which will be close to 1 billion people. China's top 100 largest cities also account for around 70% - 80% of the country's GDP.
But if climate change continues at its current pace, large parts of Shanghai, China's financial capital, will be underwater within 30 years, including the Bund and Pudong areas. 
Building urban resilience, therefore, has become one of the most pressing challenges. 
In her views, a resilient city is the one that is safe, healthy, prosperous and stable, in the face of the major social, economic and environmental changes. And resilience must be built from the social, economic and environmental perspectives. 
When it comes to social resilience, cities must offer affordable homes, recreational spaces, clean water, good access to healthcare and education, reliable public transport and more, Ms. Trankmann explained. For economic resilience, cities need to create investment incentives – particularly for tech and other sectors key to the green transition – as well as encourage entrepreneurship, allow flexible work arrangements, along with social insurance to shield those most vulnerable from down-turns or inflation. And to ensure environmental resilience, cities must work to maintain a stable, in-tact environment.
And resilient cities themselves are essential to the SDGs, not only because more than half the world's population – 4.4 billion people – live in cities, but also because the cities are centers of cutting-edge technology, as well as political decision-making and cultural hubs, and are the biggest contributors to carbon emissions and energy consumption.
Non-tech innovations also key to building resilience 
Technology, without doubt, has a key role to play in strengthening social, economic and environmental resilience.
Ms. Trankmann took the "smart" traffic lights in Haikou, Hainan province as an example. She said that by adjusting wait times based on pedestrian and vehicle flows, the "smart" traffic lights make transport more efficient, helping cut vehicle emissions. 
In addition to technological means, non-tech innovations or new policies are also of great importance to resilience, she stressed.  
Policy innovations, especially, new green finance policies in several major Chinese cities, are spurring on the SDGs and resilience more broadly. 
For example, Shanghai has developed a Policy and Institutional Review and a Biodiversity Finance Plan that seeks solutions to biodiversity financing from the finance and private sectors. 
Chengdu, with a competitive edge in IT and software, has also launched "Ten Projects to Make the City Better", aiming to cultivate a resilient, smart, age-friendly and inclusive city.
Editor: Lan Suying