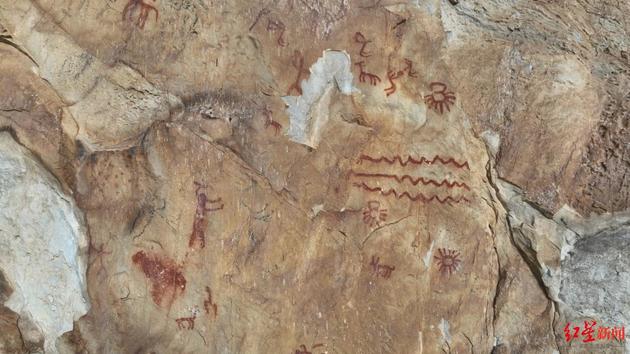 Photo/Red Star News
Feb.17 (NBD) -- Mysterious pictures were found on the rock at the back of Gulugou Village in Sichuan Province, according to a report the Cultural Relics Administration of Mianning County received on Feb.6.
Preliminary examination shows, the contents of the rock paintings are mostly wild animal groups, hunting scenes, and some abstract symbols. More than 90% of them are wild animals, including wild sheep, wild boar, muntjac, boar, monkey and unidentified wild animals. There are also patterns that look like wild horses and donkeys.
The pigments used in the rock paintings seem to be made of red iron ore or iron oxide pigments mixed with animal blood.
The rock paintings discovered are about 5,000 kilometers away from the Yalong River, which were painted on the towering and vertical "Rock House" (a kind of site type, also known as Rock Pavilion, Rock Shade, etc.), about 0.5 meters away from the ground.
There are 4-5 holes with a diameter of about 20 cm on the cliff wall, which may have been used to hold temporary dwellings.
The hunting scenes in the paintings mostly use sticks and stones, reflecting very primitive characteristics.
According to preliminary judgments, it was likely made by the pre-historical people during hunting and gathering processes, earlier than the Neolithic rock paintings.
At present, the Gulugou rock paintings are under protection. The exact era and meaning of these mysterious rock paintings remain unknown and need further examination.
Editor: Tan Yuhan