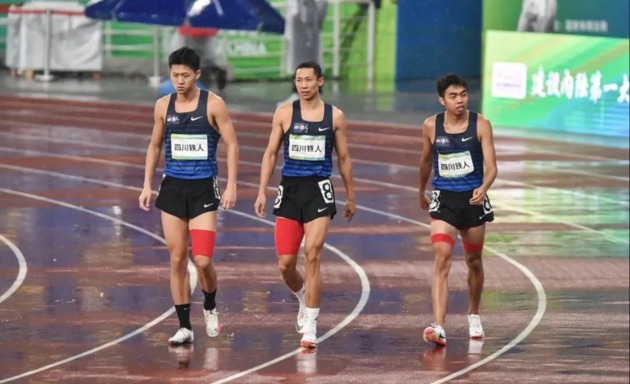 Fan Tianrui (Left)
Photo/WeChat account of Chengdu Sports
Feb.2 (NBD) -- The 2023 Asian Indoor Athletics Championships, a biennial competition organized by the Asian Athletics Association since 2004, will be held in Kazakhstan from Feb. 10 to Feb. 12 this year.
According to the Chinese Athletics Association, China sent 25 athletes to the competition, aiming to be better prepared for the Budapest World Championships, Hangzhou Asian Games, and the Paris Olympics through this event.
Among them, 16 are "post-1900s" and 4 are from Sichuan Province, namely Fan Tianrui, Liu Guoyi, Liu Yinglan and He Wujia.
This is the first time for Chengdu native Fan Tianrui to participate in an international event and will compete in the 400m race.
Fan Tianrui has been a proud representative of Chengdu athletics since he was a child. He attended Xianlu Primary School in Chengdu and won multiple awards in short and long-distance races at school and district-level competitions.
In 2017, Fan Tianrui was admitted to the Chengdu Sports Team (now known as the Chengdu Tianfu International Sports Training Center) to specialize in the 400m race. He is currently a freshman at Chengdu Sport University majoring in Athletics and Swimming.
Fan Tianrui is looking forward to competing in the FISU World University Games in July 2023.
In a recent interview, he expressed his desire to show the world the confidence and strength of Chengdu athletes.
The 2023 Asian Indoor Athletics Championships will be a great opportunity for Fan Tianrui to show the world what he is capable of, according to Chengdu Sports.
Editor: Tan Yuhan