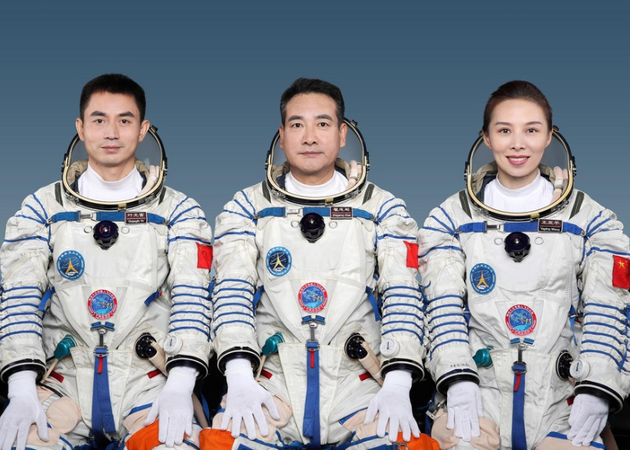 Chinese astronauts Zhai Zhigang (C), Wang Yaping (R) and Ye Guangfu (Photo/Xinhua)
The Shenzhou-13 manned spaceship will be launched at 12:23 a.m. Saturday (Beijing Time) from the Jiuquan Satellite Launch Center in northwest China, announced the China Manned Space Agency (CMSA) on Thursday.
The spaceship will take three astronauts -- Zhai Zhigang, Wang Yaping and Ye Guangfu -- into space for the construction of China's space station, said Lin Xiqiang, deputy director of the CMSA, at a press conference held at the launch center.
The astronauts will stay in space for about six months, the longest ever in-orbit duration for the Chinese astronauts.
After entering orbit, the spaceship will conduct a fast automated rendezvous and docking with the radial port of the in-orbit space station core module Tianhe, forming a complex with the core module and the cargo crafts Tianzhou-2 and Tianzhou-3.
The astronauts aboard Shenzhou-13 will be stationed in the core module, working and living according to the same timetable as on Earth, Lin said. After six months, they will return to the Dongfeng landing site in north China's Inner Mongolia Autonomous Region, taking the return capsule.
The launch will be carried out with a Long March-2F carrier rocket, which is being filled with propellant, Lin said.
On Sept. 20, China launched cargo spacecraft Tianzhou-3 to deliver supplies for the Shenzhou-13 mission, including one extravehicular spacesuit for back-up, supplies for extravehicular activities, space station platform materials, payloads and propellants.
The Tianhe core module, which was sent into orbit on April 29, has docked with Tianzhou-2, Shenzhou-12 and Tianzhou-3. The Shenzhou-12 crew members carried out two extravehicular activities during their three-month stay in the core module.
The core module has been in a stable and good condition, with all devices and functions working normally, Lin said.
It has completed a series of in-orbit tests, including the control of flexible solar wings, the climbing of the mechanical arm, propellant refueling and electric propulsion. It meets all requirements as expected, laying a solid foundation for subsequent construction missions of the space station, he added.
Currently, the cargo craft Tianzhou-2 and Tianzhou-3 are docked at the two ends of the Tianhe core module, with all equipment functioning well, waiting for the arrival of the Shenzhou-13 crew members. The crew is in a good condition, and all pre-launch preparations are in order, Lin said. 
Email: gaohan@nbd.com.cn
Editor: Gao Han