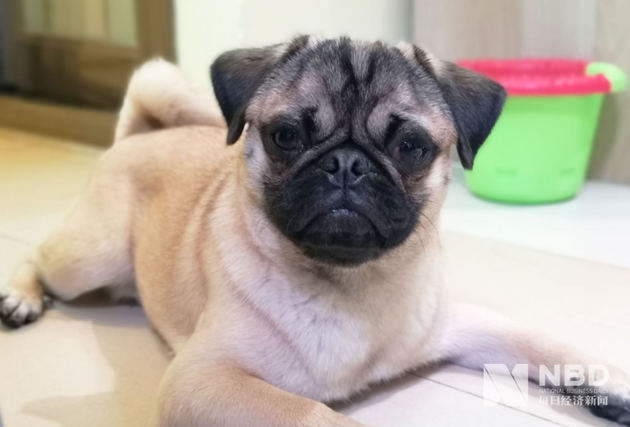 File photo/Zhang Xiaoqing (NBD)
With paper flowers, a eulogy and light music lingering in the air, Lyu Jun was officiating a small farewell ceremony at an industrial estate.
It was a funeral for a pet dog.
Lyu came up with the idea to be a pet mortician four years ago when he was preparing to start a business.
"At that time, there was only one brick-and-mortar business that provided funeral services for pets in Shenzhen, but hundreds of pets died every day in this metropolis," he recalled.
According to Lyu, many pet owners used to bury the remains of their beloved pets somewhere nearby, having a harmful impact on the local environment and risking the spread of disease.
He then saw a gap in the market for someone able to properly handle the death of pets. "Pet funeral service provides harmless treatment of the bodies."
Keeping pets has become a popular way for many young Chinese to alleviate stress and relieve loneliness. Hence, new occupations in pet services have emerged, such as pet beauticians, pet trainers and pet nurses.
Yet for some time, pet undertaker remained a neglected profession, which was further underlined when Lyu first started out with his new career.
During the early days, Lyu had to drive some 150 km every day just to find a suitable location for his pet funeral parlor. For four months, he got nowhere.
"Nine out of 10 lessors refused us after we told them we were in the funeral business," Lyu said. He finally settled his company in an industrial park in the city's Bao'an District, far away from residential areas.
Lyu decorated his store carefully and furnished it in warm colors. It is tidily carpeted, and a message tree has been erected where pet owners can leave their best wishes to their pets.
The true value and significance of being a pet undertaker is providing emotional healing, Lyu said.
The thoughtful man optimized the process and paid attention to details, preparing funeral orations for the pets and urns based on their sizes, recording videos for some pet owners who could not attend the farewell ceremony, and providing paper and pens for those who wanted to write down their words and hang the notes on the wishing tree.
To be a pet undertaker, you have to love what you do and be strong-hearted, Lyu said, since dying pets are often smelly as a result of incontinence, their hair falls out and rigor mortis sets in after they die.
He takes good care of the remains of the pets and tidies up their appearance prior to cremation. "It is the greatest comfort to pet owners."
"I had happy times with my dog and I planned a trip in October, but its death was so sudden," said a female pet owner surnamed Zheng, who was introduced to Lyu by a friend. "We're feeling better holding a decent funeral for my dog."
During the past four years, Lyu bid farewell to more than 2,000 dogs, cats, hamsters, hedgehogs and other kinds of pet animals. He also does voluntary work at the local pet association in his spare time to promote responsible dog raising.
"The pet funeral service industry is still in its infancy, and I hope there will be a set of strict standards for practitioners and a better environment for the industry," Lyu said. 
Email: gaohan@nbd.com.cn
Editor: Gao Han