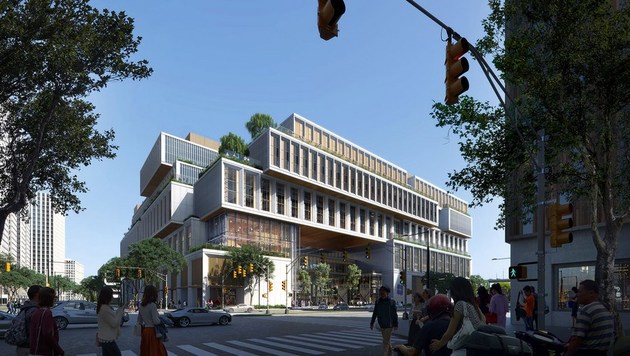 Photo/Xinhua
Shanghai New York University (NYU Shanghai) has announced that it would host more than 3,000 Chinese students from New York University and New York University Abu Dhabi for the fall semester in response to travel restrictions caused by COVID-19.
The students, consisting of some 2,300 undergraduates and 800 postgraduate students, will join some 1,700 students already registered in NYU Shanghai, according to the university's announcement made public Friday.
NYU Shanghai said it would convert seven floors in the nearby WeWork spaces into classrooms to cope with the exceeded capacity of its existing academic building.
An additional 75 faculty members from NYU and other universities will join the NYU Shanghai faculty in leading nearly 200 courses for undergraduates, and another 40 for graduate students at the temporary campus.
These students may also cross-register for traditional NYU Shanghai courses.
Since COVID-19 has largely been brought under control in Shanghai, the majority of the classes will be taught offline, the university said. NYU Shanghai will also take strict epidemic control and prevention measures at the temporary campus to ensure the safety of students from its sister campuses.
A "mixed mode" of online and offline teaching will be applied and these students will also be able to take online classes offered by their home campuses.
"All of us at NYU Shanghai are looking forward to welcoming these visitors to our community this fall," said Jeffrey Lehman, vice chancellor of NYU Shanghai.
"These are challenging times, and it is gratifying to know that our university can continue to promote healthy bridges between China and the rest of the world while we await the restoration of more normal opportunities to travel across national borders," Lehman said.
NYU Shanghai was established in 2012 as China's first Sino-U.S. university operated as an independent legal entity. 
Email: gaohan@nbd.com.cn
Editor: Gao Han