Nov. 13 (NBD) –Kwai, the international version of Chinese short video app Kuaishou, has announced a new content creator recruitment plan in Brazil to build a local creative team formed by a thousand content makers such as Youtubers, popular figures of Instagram, folk artists and ordinary video producers.
"Brazilian users have shown a strong interest in social media," stated Wu Yan, director of operations of Kuaishou's overseas business. "We have established the operational teams in both Beijing and Brazil, aimed to provide high quality contents and a warm online community for Brazilian users."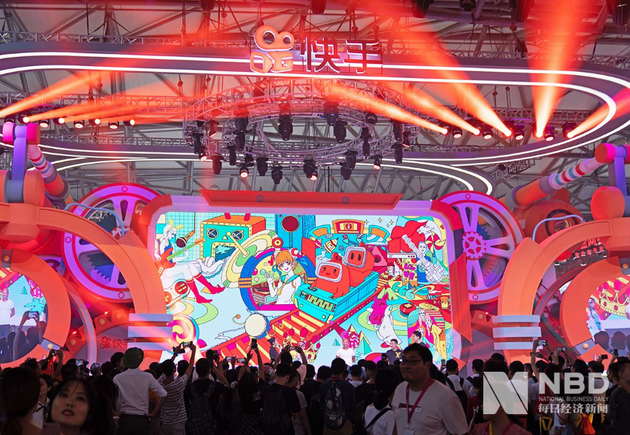 Kuaishou's booth at ChinaJoy 2019 [File photo/Tan Yuhan (NBD)]
Renew arrangements in overseas markets
National Business Daily noticed that Kwai has topped the ranking of mobile apps in terms of downloads in Brazil for several times from July 21 to early November this year. Kuaishou also revealed Kwai's daily active users in the country has exceeded 7 million.
Kuaishou's new recruitment plan indicates its second attempt at overseas expansion after the reorganization of its overseas business team starting from last year.
It was reported that Liu Xinhua, Kuaishou's chief growth officer who was in charge of the overseas unit of the company, resigned from his post in early December of 2018. Kuaishou also launched a major job cuts to lay off around a hundred employees of the overseas team, media outlet 36Kr reported citing a person close to Kuaishou. Meanwhile Kuaishou was recruiting new talents for its overseas segment.
The reshuffle in the overseas unit is aimed to turn the tables after declining growth in the overseas markets.
In the South Korean market, for example, Kwai's ranking plunged to around 35th in Google Play in December 2018, in stark comparison with the flying start when the company first entered the market in late October 2017. At the time, Kwai attracted 10 million users in less than a month.
Besides South Korea, Kuaishou made foray into a number of countries including Russia and Malaysia starting from 2017. In the second quarter of 2017, Kwai won the second spot in the app list in user increase in the Russian market with a surge of nearly 58 percent.
Wang Xin, head of Kuaishou overseas user growth business, once publicly said that Kwai took the crown in apps by downloads in both Google Play and App Store in Russia and seven countries in Southeast Asia in the first six months of 2018.
Competition between Kuaishou and Douyin intensifies
Some held Kwai's setback in the overseas market was partly led by the challenge from its major rival TikTok, which was initiated by another popular Chinese short video app Douyin in 2016 and targets users mainly in Asia and the United States.
Compared to Kwai, better localization through partnering with more local entertainment companies and higher expense in promotion helped TikTok spread widely and rapidly in the overseas markets.
In the first quarter of 2019, TikTok remained the most downloaded app on the App Store for the fifth consecutive quarter.
In the Asian region, TikTok ranked first in app downloads in India from the June to August this year, 4th in Thailand and seventh in the Japan.
As the two leading short video apps in Chinese market, both Douyin and Kuaishou are facing intensifying competition in the domestic market, as the market penetration rose to 72 percent in first half of 2019 and the average number of short video apps opened by users reach 1.75, up 11 percent year over year.
The overseas markets thus have become new battlegrounds for those short video platforms.
Shen Meng, executive director of investment company Chanson Capital, noted for Kuaishou which restarted its exploring journey in the markets outside China, it needs to avoid a head-on competition with TikTok in Asia, adding that Brazil with large population will be a proper choice for Kuaishou.
Email: gaohan@nbd.om.cn
Editor: Gao Han