Nov. 13 (NBD) – The new energy vehicle (NEV) unit of Chinese property conglomerate China Evergrande Group (Evergrande: 03333, HK), which aims to take on Tesla, will introduce its first model by June of next year, with mass production starting in 2021, Hui Ka Yan, chairman of Evergrande announced Tuesday.
Evergrande's strong EV drive is embodied in its plan to invest a combined 45 billion yuan (6.4 billion U.S. dollars) in the auto manufacturing sector, establish ten production plants worldwide, develop 15 new models in the following three years, as well as achieve an annual output of 5 million cars within 10 to 15 years.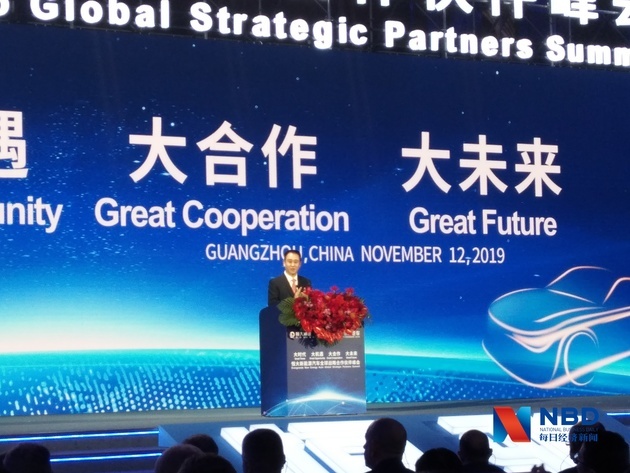 Evergrande held the NEV Global Strategic Partners Summit in Guangzhou, China on November 12, 2019. [Photo/Li Xing (NBD)]
On Tuesday, Evergrande entered into agreements with 60 car component firms including Bosch, ZF Friedrichshafen, Continental and Magna International.
Evergrande's dream of making cars began in 2018, when the group indirectly acquired a 45-percent stake in NEV manufacturer Faraday Future's (FF) owner Smart King. Unfortunately, Evergrande finally broke up with FF in 2019 after months-long disputes over control of the struggling EV startup.
But this didn't stop Evergrande from pursuing its dream. In January this year, it purchased a stake in Sweden-headquartered electric vehicle maker NEVS and Swedish high-performance sports car producer Koenigsegg, respectively.
Apart from the deals with vehicle manufacturers, Evergrande also injected capitals into companies engaging in auto sales and manufacturing of automotive batteries and components.
Of course, talents are also essential to turn the dream into reality. In early September, the company initiated the recruitment for its NEV unit, projecting to invite 8,000 employees globally.
Some held that though frequent acquisitions might give Evergrande an access to the NEV industry, whether the acquired would help the conglomerate stand out still remains a question.
"Most of the companies Evergrande has bought are not puissant enough, which might make it hard for Evergrande to sharpen its competiveness," commented an insider in an interview with the 21st Century Business Herald.
Another challenge faced by Evergrande is the intensifying competition in China's NEV market. Due to the imminent local production of Tesla and entry of established carmakers like Volkswagen and Toyota into the NEV sector, the space for emerging NEV brands will be further squeezed.
At the same time, due to the slashed government subsidies for NEVs, sales of NEVs in China recorded a year-on-year decline of 45.6 percent in October 2019, the fourth consecutive month of falling sales, according to the China Association of Automobile Manufacturers.
"The business model of the auto industry is completely different from that of the real-estate segment," noted the insider, "Featuring high technical barriers, the auto industry requires more investment in the initial stage. Meanwhile, the return period is longer. There is no way to achieve success overnight in the car manufacturing industry. Instead, one has to keep its feet on the ground to develop technologies and accumulate experience."
Email: lansuying@nbd.com.cn
Editor: Lan Suying