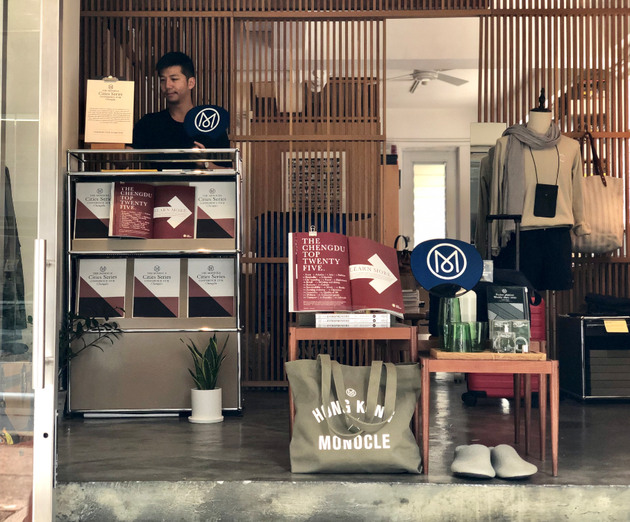 Photo/Peter (Special correspondent)
Oct. 24 (NBD) -- How do we make better cities? How do we create livable cities?
Having been focusing on quality of life since its inception in 2007, British premium lifestyle magazine Monocle is about to bring the discussions to southwest China's Chengdu with its first Cities Series conference scheduled for November 4.
"Making cities that deliver good restaurants, great cultural spaces, places to meet with friends, to swim and run is vital," said Monocle's editor Andrew Tuck in an interview with National Business Daily (NBD). 
Small fixes matter
To Tuck, there doesn't exist one-model-fits-all principle when it comes to city planning. People all have unique opinions in their heads of what is important in the city and they all make bespoke versions of the place they call home. 

As the anchor and host of Monocle's podcast The Urbanist, the only commercial radio show in the world about urbanism, Tuck has had interviews with the world's leading urban thinkers and mayors, looking at the main themes in urban trends, city planning, architecture, design, among others.
The podcast is nominee in the Smartest Podcast category of the 2019 British Podcast awards. Tuck attributed the success of the programme to the fact that people care about where they live and want their voices heard and the radio show just brings everyone into the debate.
Every year, Monocle publishes its annual Quality of Life Survey of the top 25 cities in the world and last year, the magazine also issued The Monocle Guide to Building Better Cities. The top 25 cities list changes each year as places grow and change.
Andrew Tuck (Photo provided by Monocle)
In the eyes of Tuck, small decisions can make better cities. He gave the example of Zürich which was named the most livable city in Monocle's Quality of Life Survey 2019. Notably, Zürich was put at the No. 1 spot for its balconies which not only provide glorious outdoor space but also help saving energy.
"While a noisy air-con unit may be some people's lazy solution, perhaps it's better to add shade with an awning and to create buildings with a through draft. And Zürich has hundreds of these small fixes that make for a great city," Tuck further explained to NBD.
No one model for ideal cities
It's noted that Monocle has special interest in remote and less famous cities.
In response, Tuck elaborated as the way many people work is changing – a laptop and access to the internet lets you run your career from anywhere, people are voting with their feet and going to second and third tier cities where rents are cheaper, life easier.
"In a world where people are mobile they will want to live in a city that's not just good for work but which is also nice, engaging and open," he commented.
For Tuck who has visited so many places around the world, has he pictured a perfect city in his mind?
"Oddly, a 'perfect' city would not look too perfect," Tuck said. At the age of 18, Tuck moved to London to go to university. He once said while London, his home base, has plenty of challenges, it still beguiles with mix of history, the abutting of eclectic architectural styles, various people and moments of serendipity.
"People respond to cities that have layers of history, a sense of discovery and serendipity and which are fun to live in. Rome, Buenos Aires, Beirut all have problems but people are passionate about them," Tuck told NBD.
In this regard, cities should be walkable, provide mixed-use neighbourhoods and delivery a sense of community, Tuck suggested. "You need to think as much about the spaces in-between buildings – the parks and paths – as the architecture. "
Tuck believed that there is no one model for ideal cities. "I like London, Beirut, Rio de Janeiro, Sydney, Tokyo – and am looking forward to getting to know Chengdu."
Email: lansuying@nbd.com.cn
Editor: Lan Suying