Oct. 21 (NBD) -- On Monday, postcards from Chengdu boarded the planes, heading for the world. On the postcards, Tianfu Panda Tower, Kuanzhai Alley, Qingyang Palace, and Hejiang Pavilion bustle with cultural life, and pandas are surrounded by clear waters and green mountains.
The limited edition postcards are launched today to send warm invitations of southwest China's Chengdu to the world for Monocle's Cities Series conference which will take place in the city on November 4.
The conference, hosted by Chengdu Media Group and global top lifestyle magazine Monocle, and organized by China's mainstream financial news agency National Business Daily, will be the first in a series where Monocle pairs up with cities and regions to explore key topics facing mayors, developers, investors and citizens.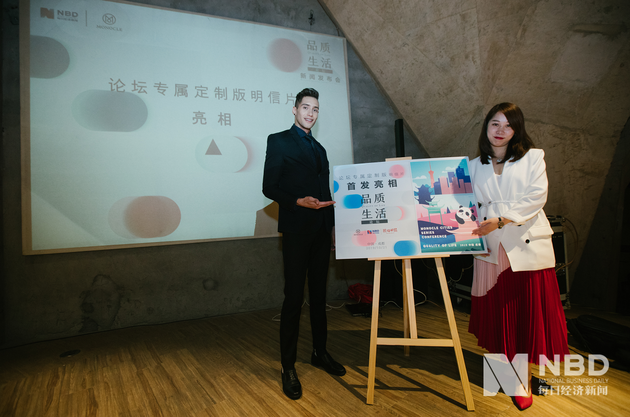 The postcards are unveiled at the press conference on Monday [Photo/Zhang Jian (NBD)]
According to Panda Post Office that takes charge of the design, the postcards convey a slow-pace, close-to-nature attitude towards life, which fits in beautifully with Chengdu's characteristic laid-back lifestyle.
How will the unique "Chengdu-styled" life philosophy find its best place in the world's fashion way of life? And what kind of chemistry will it have in this Monocle's first Cities Series conference. There is much to expect.
Last year, Chengdu was awarded as "an emerging city of style" by foreign media, for its fast-growing fashion appeal. After Chanel and Dior made their debut in the city, other luxury brands such as Chloé and Stella McCartney presented their 2018 fall-winter and 2019 spring collections at the 2018 Chengdu International Fashion Week.
The fashion appeal of Chengdu is more than the presence of fashion magnates. Ni Pengfei, director of the Research Center for City and Competitiveness under the Chinese Academy of Social Science, once said, "While Beijing holds great appeal as a metropolis, Shanghai makes a mark in fashion, and Guangzhou has a legend in building up personal fortunes, Chengdu presents the beauty of a cozy lifestyle."
A global pioneer in high-end lifestyle, Monocle has noticed the strong energy of Chengdu's fashionable way of life.
Apart from the booming luxury retail, prosperous hospitality industry and internationally-famous cuisines, Chengdu is replenished with open minds, unique styles and fresh ideas, and also boasts vast opportunities. That's why Monocle chose the city for the first conference of its Cities Series.
In Chengdu, people could leisurely spend their afternoon with a warm cup of tea or play a few rounds of mahjong to relieve pressure after work. Such a relaxed, easy-going atmosphere promises a new lease on life.
Now a new trend of getting out of the city and embracing the nature is increasingly in vogue among China's growing middle-income population, and Chengdu is leading the trend with robust vitality. The newly-released limited edition postcards are just a perfect mix of a quality lifestyle and international fashion.
Email: lansuying@nbd.com.cn
Editor: Lan Suying