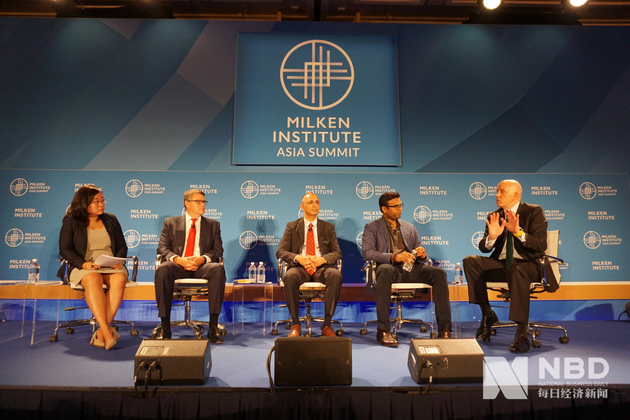 Photo/Huang Mingyang (NBD)
Sept. 20 (NBD) -- In Munich, Huawei on Thursday launched the latest Mate 30 series which are the first phones powered by Kirin 990, the world's first 5G baseband-integrated chipset.
One day later, a panel discussion themed with The Connectivity Revolution: A Vision for 5G at the Milken Institute Asia Summit (Milken Summit) 2019, served as a timely occasion for international business leaders and experts to share their insights on this sought-after technology.
"It is a platform for the future. It is a platform for transformation. That's what 5G is," remarked Huawei's Chief Technology Officer Paul Scanlan at the summit.
Scanlan compared 5G with its predecessor, saying that the new technology, with bigger capacity on the grids, can save money as it helps reduce the number of base stations needed.
Echoing the views of Scanlan, Nokia's Senior Vice President Sandeep Girotra said, "The way 5G is designed and built is not a monolith network but a network which can be sliced for a particular application or for a particular user at a particular point of time.
"5G can give more capacity at one place versus the other. So it provides the very foundation of what we might call as industrial internet," added Girotra.
5G's lower latency, higher bandwidth, greater capacity and faster speeds are able to enhance connectivity to a large extent, which can benefit people and businesses.
Taking city management for example, UK's telecommunications services provider O2 found in a report that using 5G for smart city development will drive 6 billion pound (7.52 billion U.S. dollars) worth of productivity savings for the UK economy.
Besides, with the use of 5G, every household could save up to 450 pounds a year, as energy bills are reduced as a result of the introduction of smart city grids as well as smart initiatives including electricity and water use, according to O2.
Scanlan also noted that the transformative force of 5G also lies in its greenness. "If people continue to build 4G network, they will double the carbon footprint. The biggest topic in the world today is about green. So if you have an opportunity to transform the world, then 5G is an opportunity to reduce carbon footprint, or at least keep it the same," said Scanlan.
Email: gaohan@nbd.com.cn
Editor: Yu Peiying