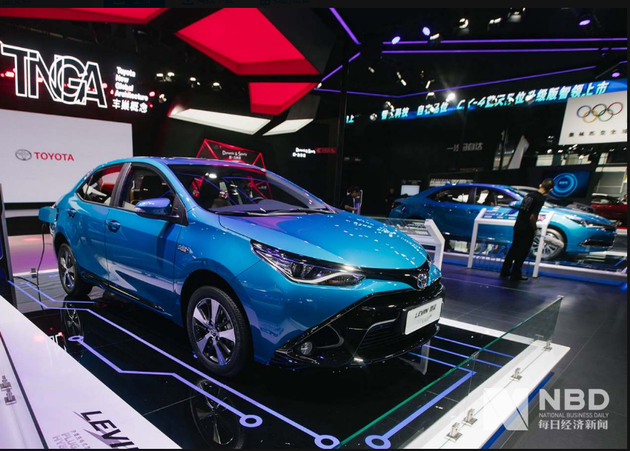 File photo/Zhang Jian (NBD)
Sept. 17 (NBD) -- Japanese automaker Toyota Motor ("Toyota") and Chinese ride-hailing giant Didi Chuxing have named their new mobility joint venture (JV) "Fengju Chuxing", National Business Daily (NBD) noticed on Wednesday.
With a registered capital of 158 million U.S. dollars, the Beijing-based JV will be engaged in the fields including car rental, car and auto parts sales and ride hailing service.
NBD found that the JV was set up on September 10 as part of the partnership forged in late July between Toyota and Didi Chuxing. Under the tie-up, Toyota will invest 600 million U.S. dollars in the ride-hailing firm and a planned joint venture between the two companies and GAC Toyota Motor Co., Ltd. for vehicle-related services.
Shigeki Tomoyama, executive vice president of Toyota, said in July that partnering with Didi Chuxing will further promote Toyota's smart link service and the next generation of pure electric vehicles.
Under Toyota's electrification strategy, ten pure electric vehicles will be launched from 2020. In the Chinese market, it will first launch C-HR and IZOA EV models.
The JV will purchase Toyota models and lease the cars to drivers providing ride-hailing services, and Toyota dealers are to provide maintenance services, according to media reports. Toyota also considered supplying the JV with locally produced electric vehicles starting from 2020.
Liu Jiehao, analyst at data firm iiMedia Research, held the collaboration between two firms will also help to accelerate Toyota's transformation from a traditional automobile manufacturer into a mobility solution provider.
It is noted that the Japanese automaker has made deployment in the mobility domain globally since 2016 when the company made strategic investment in U.S. ride-hailing leader Uber.
Besides, Toyota last June invested 1 billion U.S. dollars in Grab, a Singaporean ride-hailing service provider, pushing Grab's valuation up to 10 billion U.S. dollars and making it the largest ride-hailing platform in Southeast Asia. Later in August, Toyota made another 500-million-U.S. dollar injection in Uber.
Email: gaohan@nbd.com.cn
Editor: Zhang Lingxiao