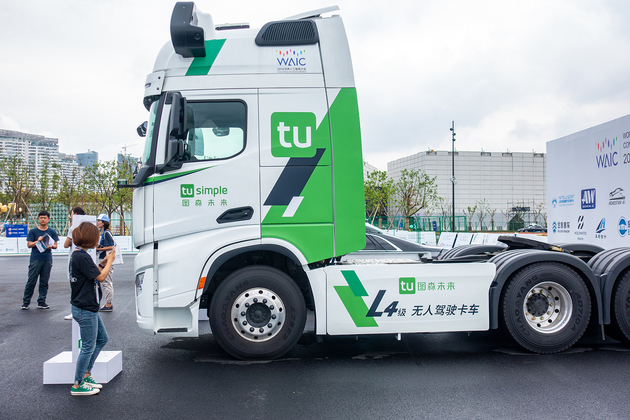 Photo/VCG
Sept. 18 (NBD) -- On Tuesday, self-driving truck startup TuSimple announced that it has secured commitments for an additional 120 million U.S. dollars in an extended Series D funding round, which reached a total of 215 million U.S. dollars.
In addition to previously announced investor UPS, the logistics titan, asset management firm CDH Investments and automotive tier-1 supplier Mando Corporation participated in the extended round.
"The new funds will be used to expand long haul service for fleets and co-develop a commercial self-driving truck with OEMs (Original Equipment Manufacturers) and Tier 1 suppliers," said TuSimple in a statement.
Founded in September 2015 and based in both Beijing and San Diego, TuSimple is committed to creating the world's first commercial self-driving truck solution for the logistics industry. An aggregate funding of 298 million U.S. dollars to date has added fuel to this global autonomous truck company whose existing investors include online media company Sina and graphics chip manufacturer NVIDIA.
The autonomous trucking industry is increasingly appealing to global investors with the growing penetration of advanced technology in commercial vehicles. The global autonomous truck market is expected to grow at a CAGR of 5.8 percent during the period of 2018-2023, based on a report by Mordor Intelligence, India-based market research services provider.
National Business Daily (NBD) noticed that TuSimple is not the sole Chinese unicorn player in the promising industry. In August, another Chinese autonomous trucking company Plus.ai was reportedly on the cusp of raising 200 million U.S. dollars in a Series B funding round, bringing its valuation to over 1 billion U.S. dollars.
According to data from Crunchbase, Sweden-based autonomous trucking company Einride has raised a total of 9.1 million U.S. dollars in over 5 funding rounds, and a driverless electric truck developed by the company began daily freight deliveries on public roads in Sweden in early May.
Besides the startups, traditional vehicles manufactures including Volvo and Daimler have joined the race.
China and the United States are seemingly two significant powers to nurture the autonomous driving technology. China has become the largest road freight transportation market with a size of over 5 trillion yuan (705 billion U.S. dollars) and the truck population in the country has reached 19 million units, shows a report released by Bain and G7 in 2017.
In the United States, "Trucking is deeply woven into the national fabric. The industry moves about two-thirds of all goods shipped in the United States. Truck driving is the primary occupation in more than half of all U.S. states," wrote McKinsey in 2018.
The U.S. trucking industry grew almost 10 percent last year, according to a new report from the American Trucking Associations. The industry's largest trade group said Monday that trucking revenue soared to 796.7 billion U.S. dollars in 2018 from 700.1 billion U.S. dollars of the previous year.
Email: lansuying@nbd.com.cn
Editor: Yu Peiying