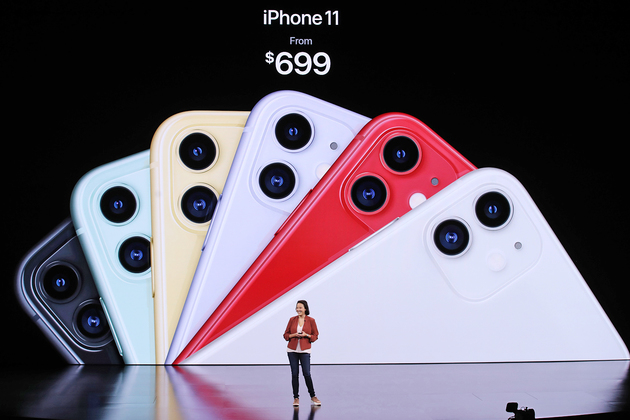 Photo/VCG
Sept. 16 (NBD) -- Chinese consumers were showing stronger than expected interest for Apple's all-new flagship iPhones when the smartphone vendor opened up pre-orders on Friday.
Statistics published on Saturday by online marketplaces JD.com and Tmall revealed that the sales volume of the iPhone 11 series has risen two to three times more than that of the last flagship model since the start of the pre-order sales and the new iPhones in some colors have once been out of stock on the platforms.
Notably, the first-day advance sales of the iPhone 11 represented an increase of 480 percent on JD.com and a rise of 335 percent on Tmall as compared to that of the iPhone XR launched last year.
Explaining the reason for the high demand for Apple's new products, industry observer Ding Shaojiang held that Apple has a solid fan base and the company's pricing strategy for new releases partly boosts the sales.
National Business Daily noticed that the iPhone 11 started at 5,499 yuan (778 U.S. dollars), down 1,000 yuan from the base price of the iPhone XR.
Despite the encouraging pre-order sales of the new iPhones, industry insiders believed the lack of 5G versions would affect the overall performance of Apple this year. Research firm IDC predicted iPhone sales are to fall by 15 percent in 2019.
If Apple doesn't release 5G phones in the first half of next year, its market share would be snatched away by counterparts Huawei and Samsung that are seen to win the 5G race with their 5G phone models, Ding noted.
Apple CEO Tim Cook stressed in an interview on the sidelines of the product release conference that the company didn't roll out 5G phones because "5G is still a little ahead of its time". Apple's research found the 5G market was not mature enough in infrastructure, chips and other fields, thus it is not able to support a high-quality smartphone product, said Cook.
Email: lansuying@nbd.com.cn
Editor: Zhang Lingxiao