Sept. 8 (NBD) -- "We have no alternative unless we work together on our common journey," Zlatko Lagumdzija said of international relations at the opening ceremony of the third Taihe Civilizations Forum (TCF) themed with "Science Culture · Future Ethics · Common Values".
Lagumdzija, who held the position of Prime Minister of Bosnia & Herzegovina (B&H) from 2001 to 2002, attended the Security and Development of Belt & Road Initiative session of the TCF as a keynote speaker.
The ongoing annual gathering, held in China's capital city Beijing and initiated by Taihe Institute in strategic partnership with NBD Think Tank, attracts approximately 500 leading experts from business, governmental, international organizations, and academic sectors.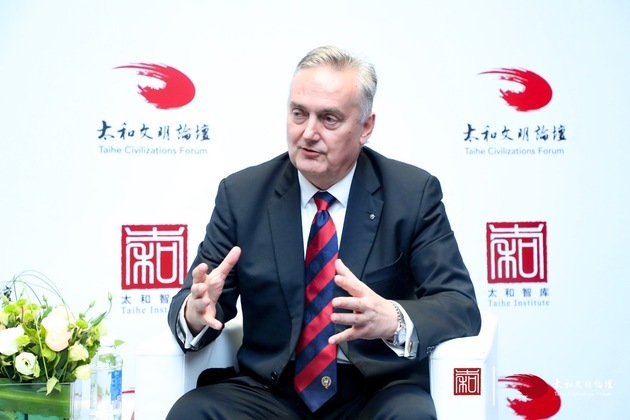 Zlatko Lagumdzija (Photo/provided to NBD)
Deepening ties between China and B&H under BRI
Located on the Balkan Peninsula, B&H has a population of less than four million. Once bedeviled by the Bosnian War, the southeastern European country has the world's highest youth unemployment rate.
Overall, B&H had an average unemployment rate of 27.5 percent from December 2006 to December 2018, compared to the world's unemployment rate standing at 4.95 percent of total labor force in 2018, based on data by World Bank. But National Business Daily (NBD) notice that the country's unemployment rate have declined around 25 percent between the 2015-2018 period, which showcases improving situation in B&H.
The growth of the industrial production as well as exports in B&H heralded the economic recovery, according to IMF inspection team. The country, renowned for its natural environment and cultural heritage, has strengthened bilateral ties with China since the launch of the Belt and Road Initiative (BRI) in 2013.
"When it comes to the Belt and Road Initiative, I want to underline that the number of our activities with China has significantly improved during these years," said Lagumdzija to NBD, "That great initiative like 'Belt and Road' is not only about economic development, but also can be a clear example for the future of conflict prevention tool. It is an investment in peace and stability."
The two countries' economic cooperation mainly lies in infrastructure construction, encompassing transport and energy projects, and tourism. With regard to infrastructure construction, NBD noticed that four main projects containing Banja Luka Split Motorway and three thermal power plants in Tuzla, Banovici and Stanari are expected to contribute 16 percent to B&H's GDP, according to a report of 2016 by European Bank for Reconstruction and Development.
As to tourism, there witnessed a fivefold increase in the number of Chinese tourists to B&H and China has become the country's fifth largest source of overseas tourists by September 2018.
"In B&H, electricity is cost competitive and so is the land. There is skilled labor with comparatively low salary," noted the former B&H prime minister to NBD, "There is visa free regime between B&H and China now, and everything is much easier (for cooperation)."
Seeking leapfrog in ICT
Besides manufacturing industry, B&H is also seeking to embrace cutting-edge technologies.
"Companies in B&H are introducing state-of-the-art software technology and innovative solutions for different parts of the world," said Lagumdzija to NBD, "They (innovators) don't live in silicon valley, but they produce some goods that can be competitive with those in silicon valley."
Lagumdzija deems the young people with enterprising spirit as significant force in competition. "The government can do a lot, but there is no government that can replace the positive energy of new generation who are eager to do something great," said he.
In recent years, B&H witnessed an emerging power of young software developers who have begun establishing their own start-ups in the information and communications technology sector (ICT), speeding up the digitalization process in the country.
This has led tremendous growth in the ICT domain. BIT Alliance, the largest association of software industry in B&H, estimated that around 1,400 companies and about 2,500 to 3,500 programmers are now working in information-technology, communications, and computer programming in the country.
"In order to start becoming giants, you have to pass through billion barriers to get into the market," remarked Lagumdzija to NBD, "but it's happening to us to catch up and to leapfrog, actually using creativity and innovation."
Email: gaohan@nbd.com.cn
Editor: Yu Peiying