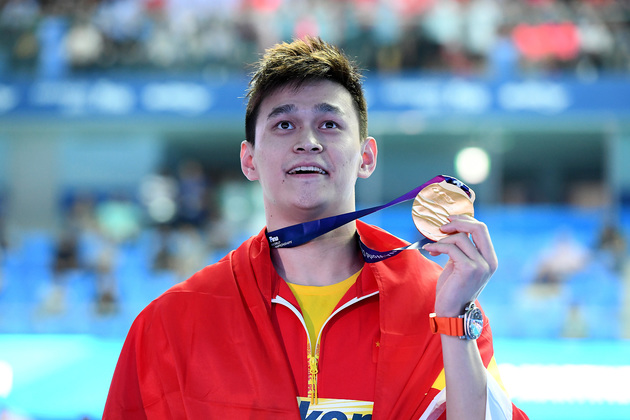 Photo/VCG
July 22 (NBD) -- Chinese swimmer Sun Yang won his fourth straight world crown in the men's 400m freestyle at the 18th FINA World Championships on Sunday, being the first to accomplish such an achievement in the history of freestyle competition.
The 27-year-old Chinese swimmer touched home first in a time of 3:42.44. To date, he has bagged up to 10 gold medals at the world swimming championships. 
Australia's Mack Horton came in second with 3:43.17 and Italian Gabriele Detti third with 3:43.23.
As the first Chinese man to win Olympic gold in swimming, world record holder of the 1500m freestyle and Olympic record holder of the 400m freestyle, Sun Yang enjoys great popularity among the general public in China. He has more than 32 million followers on social platform Weibo, beating many TV and film stars. 
National Business Daily noticed that with his enormous swimming success, Sun is a sought-after ambassador of commercial brands. According to incomplete statistics, he has endorsed luxuries, mobile phones, cars, office equipments and sportswear, including Geely, 361°, and Honor V9. 
In 2017, Sun made it into the Forbes China Celebrity List with an annual income of 69 million yuan (10.0 million U.S. dollars), representing the only athlete to make the exclusive line-up of 100 famous leaders in movies, sports, media and music across China.
Data from iQIYI Sports shows that Sun's current annual income is roughly 94.5 million yuan.  
Email: lansuying@nbd.com.cn
Editor: Lan Suying