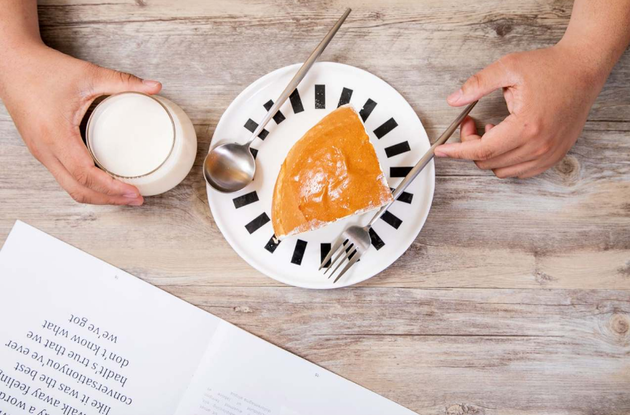 Photo/Shetuwang
"This one is black sesame lava cake," Amy Hsiao, 24, owner of a newly-opened cafe in New York City, was animated when introducing her latest creation to the customers.
The cake takes on a classic western look, but at its core is black sesame soup, a popular Chinese dessert.
"It was inspired by a nostalgic childhood memory of when my grandma would make this soup for me for dessert after dinner," said Hsiao.
Though born and raised in the United States, the young entrepreneur has always been aware of her Chinese identity.
"My parents taught me Chinese language and the culture of what they remember as home," she said.
Some four years ago when participating in the 2015 Miss Chinese New York beauty pageant, she realized further how important the Chinese heritage means to her "as a person."
"I was very proud to have my own culture and was given a platform to speak my mind on stage about things I care about," Hsiao recounted with Xinhua the enlightening event in her life.
The young lady decided to try something distinctive in a way that would pay tribute to her culture root: innovating western desserts from a Chinese perspective.
For her, it is more like a destined choice. Fathered by a chef, Hsiao has shown a keen interest in baking since childhood.
"Around 10 years old, I made at least three cheese cakes every week," she recalled her early obsession with the technique.
The young Chinese American remembered clearly how excited she was when she received a hand mixer as a six-year-old birthday gift from her father.
In 2016, she launched an online baking kit delivery service platform, selling pre-portioned baking kits and mixes online, an initial step in her pursuit of the "sweet dream."
This April, Hsiao opened brick-and-mortar service space Kitsby Cafe in Williamsburg, a community famed for its artisan and maker culture in New York City's borough of Brooklyn.
The cafe features five specialty drinks and about 10 different desserts, almost all of which are based off of Chinese heritage.
To process those innovative recipes for the desserts, Hsiao has traveled around the globe in search of inspiration.
Of the 30 countries she has visited by far, China, with a profound cuisine culture, stands out as a crucial destination for her to source ideas from.
A recent visit to south China's Guangzhou City, where her father lives now, has been fairly instrumental in the invention of the "black sesame lava cake," according to the young owner.
Any change or innovation takes pains, so is the creation of new desserts. It took about five months to perfect every recipe, said Hsiao.
"We knew it would take some trial and error," and as for the cafe's new signature, black sesame lava cake, "we failed probably more than 30 times and kept changing the recipe," she added.
Andy, a customer from the neighborhood, said "the desserts, with a bold idea to combine eastern and western cultures, are unique both in flavor and appearance,"
"When you see that people really love the dessert after they finish the whole thing, that's the best feeling and makes the experience of opening up a business worthwhile," Hsiao proudly touched upon her happiest moment in her daily work.
For more than two months since she ventured the cafe space, Hsiao has been working long hours to knock off at midnight every day.
Yet, she has quite dived into the thrill of the new startup. More importantly, Hsiao views it her mission to inherit and promote Chinese culture in her own way.
Statistics show the Chinese American community is the largest overseas Chinese community outside Asia.
The 2016 Community Survey of the U.S. Census estimates a population of Chinese Americans of one or more races to be more than 5 million. The group has been widely recognized as playing a key role in bridging Eastern and Western cultures.
Email: gaohan@nbd.com.cn
Editor: Gao Han