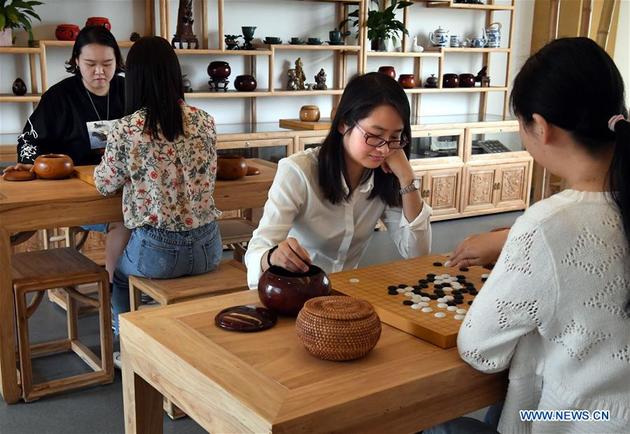 People play Go game at the Go Museum. (Xinhua/Li An)
Wang Tongling displays more than 30,000 exhibits related to Go (Weiqi), showcasing historical development of the Chinese board game in her private Go museum.
Go is an abstract two-player strategy board game, in which players compete to surround more territory than their opponent. With a history of about 4,000 years, it was regarded as one of the most refined skills that an ancient Chinese intellectual could have.
"I can never work too hard to have more people know and love the game," said the 67-year-old curator.
Wang has produced Go pieces for more than 30 years, establishing "Shuangyuan," China's leading Weiqi brand.
In the 1990s, when talking with clients, Wang found that there were controversies about the origin of the game, and she felt obliged to find the truth by herself.
"It was not easy, as there was no professional market or circle concerning the private collection of Weiqi," Wang said. "But I never give up. I knew I had to dig out the roots and show people where Weiqi came from."
Wang combed through historical materials and consulted experts while collecting Weiqi-related products from around the world.
According to the collector, in the early days, Go pieces were handmade polished stones less than 2 cm in diameter. In the Tang Dynasty (618-907), agate, shell, and jade were all used to make the pieces.
"When Weiqi culture flourished in the Song Dynasty (960-1279), people engraved birds, corals, flowers and other exquisite patterns on the pieces," Wang said.
Thanks to years of perseverance, Wang opened China's first Weiqi museum in 2014 in the city of Luoyang, in central China's Henan Province, to spread Weiqi culture and cultivate Go players.
"I have collected all kinds of Weiqi pieces and its related products dating back from the Eastern Han Dynasty (25-220) to the Qing Dynasty (1644-1911), presenting them in chronological order with an introduction of the history of Go," Wang said.
Now, her museum cooperates with primary and high schools as well as training institutes "to have more Chinese, especially children, learn and love the game."
"We organize students to visit our museum where they can learn the history of Weiqi and do Go-related activities. We also teach them how to play," she said.
During the process of collecting Weiqi pieces, Wang has not only clarified the evolution of the game but also learned how it was spread to the world.
"Weiqi was created by the wisdom of Chinese and is shared by all mankind," Wang said. 
Email: gaohan@nbd.com.cn
Editor: Gao Han