June 24 (NBD) – China's retailer giant Suning.com announced Sunday that it had entered an agreement with Carrefour S.A. to purchase a controlling stake in the latter's Chinese business.
According to the announcement, Suning International Group Co Ltd, a wholly-owned subsidiary of Suning.com, will invest 4.8 billion yuan (700.7 million U.S. dollars) to buy an 80-percent stake in Carrefour China. The acquisition is expected to close by year end.
After the deal, Carrefour will retain a 20-percent stake in its China business and the current organizational structure and business of Carrefour China will remain unchanged and be independently operated for a period of time.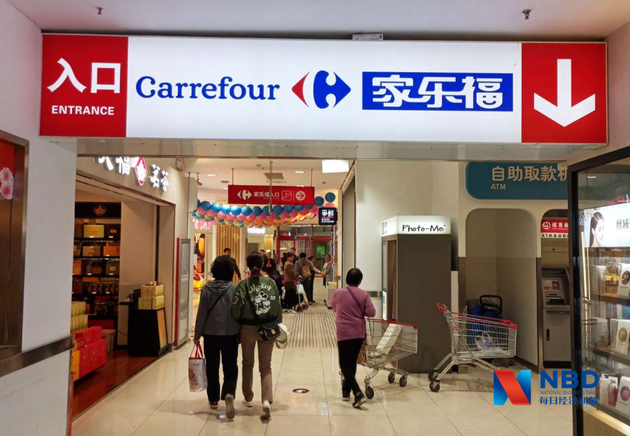 File photo/Hua Ang (NBD)
Suning.com eyes the FMCG sector
National Business Daily noticed that Suning.com has long been ambitious in the fast moving consumer goods (FMCG) sector.
The retailer established online FMCG platform Suning Supermarket in 2014, built convenience store brand Suning Xiaodian (shop in Chinese) in 2016, and opened fresh goods grocery Su Fresh in 2017. Last year Suning.com made further steps in offline deployment and over 4,000 new Suning Xiaodian were landed in the single year.
Some industry insider pointed out that the acquisition of Carrefour China by Suning.com is another move to strengthen its foothold in the FMCG segment.
According to Cao Lei, director at the China E-Commerce Research Center, what lures Suning.com to throw such whopping cash on Carrefour China is the latter's mature sales network, good reputation and wide recognition, numerous VIP members and walk-in consumers, offline operational experience, as well as the FMCG supply chain.
As for the future integration between the two companies, Cao Lei added that Suning.com could leverage Carrefour China's operational experience and supply chain in the FMCG domain to cut procurement and logistics costs so as to boost its own competiveness and profitability.
"For example, the offline Suning Xiaodian could cooperate with Carrefour China's outlets on delivery services to save logistics costs and on purchasing to improve the bargaining power," he noted explicitly.
Foreign retailers seek tie-up with local players
Carrefour China's financial situation in recent years hasn't been very good.
In 2018, Carrefour China posted about 30.0 billion yuan (4.4 billion U.S. dollars) in operating revenue, but recorded an operating profit of -412 million yuan. In 2017, the operating profit was -1.044 billion yuan.
"At bottom, it results from the fierce competition," Shen Jun, a retail analyst, said of the stake sale of Carrefour China.
In fact, Carrefour is not the only foreign retailers that took a hit in the Chinese market. Over the years, Tesco PLC, Lotte Mart, E-mart and Walmart have either retreated from China or sought to team up with local partners.
Shen held that financially speaking, the sale of stakes or store assets is not always a bad thing for foreign retailers, in that they can stop loss and get retains.
In an industry insider's view, the whole supermarket industry is battered by the onslaught of e-commerce with foreign retailers being mostly impacted.
To cope with the pressure, some foreign retail firms have actively partnered with Chinese counterparts, in order to further sharpen their edges and improve their profits, the above-mentioned insider added.
After the marriage between Suning.com and Carrefour China, China's retail industry will have a new competition landscape where large-scale supermarkets tend to collaborate with Internet behemoths, RT-Mart with Alibaba, Walmart with Tencent and JD.com, for instance.
Internet analyst Ding Daoshi said that currently Alibaba still leads the market, but Suning.com is stronger in offline operation.
It's certain that the market is big enough and won't be monopolized by one company, Ding remarked.
Email: gaohan@nbd.com.cn
Editor: Wen Qiao