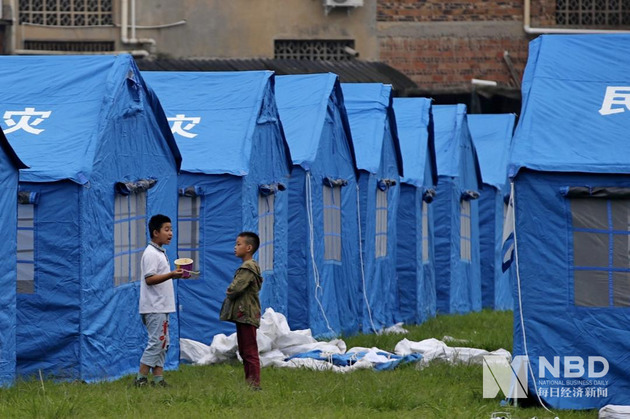 Putao Village, Shuanghe Town, Changning County of Yibin after the earthquake on Monday night. Photo/Zhang Jian (NBD)
June 18 (NBD) -- A 6.0-magnitude earthquake hit Changning County of Yibin in southwest China at 10:55 p.m. Monday (Beijing Time), according to local authorities.
The epicenter, with a depth of 16 km, was monitored at 28.34 degrees north latitude and 104.90 degrees east longitude, according to the China Earthquake Networks Center.
Before the shock waves struck, residents in surrounding areas including Yibin, Luzhou, Zigong and Chengdu got an early warning through radio, television, mobile phone, government microblogs and dedicated receiving terminals.
The warning messages were sent by the earthquake early warning (EEW) system set up by Chengdu-based Institute of Care-Life jointly with relevant emergency management authorities, said Wang Tun, head of the institute, in an interview with National Business Daily (NBD).
According to Wang, the system sent the warning messages to the Yibin city 10 seconds before the shock waves arrived, and 61 seconds in advance to Chengdu.
Geologists say electromagnetic waves travel faster than seismic waves, meaning people in affected areas other than the epicenter can use the time difference to seek shelter.
"The earthquake early warning is not an earthquake forecast. The alert can reduce rather than avoid casualties," underlined Wang.
China's EEW system now covers 31 provinces, municipalities and regions, 2.2 million square kilometers, and 660 million people, about 90 percent of densely populated quake-prone areas, Wang noted.
Studies found that a three-second EEW time can reduce casualties by 14 percent, 10-second by 39 percent and 20-second by 63 percent.
"If you got an earthquake early warning 10 seconds ahead and you live in a tall building, you should seek a shelter nearest to you, the bathroom for instance, or crawl next to the corner of an inferior wall," Wang suggested.
Email: gaohan@nbd.com.cn
Editor: Gao Han