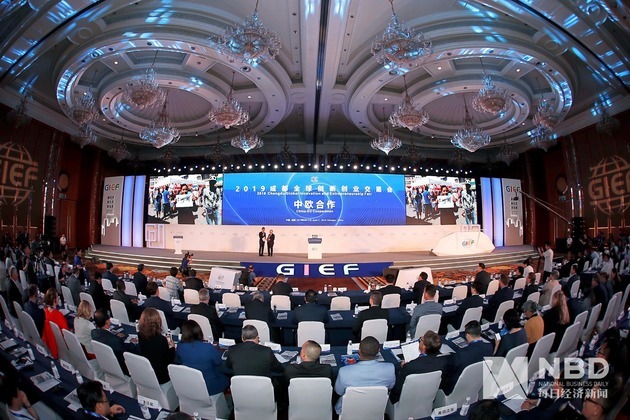 Photo/Zhang Jian (NBD)
June 11 (NBD) -- Southwest China's Chengdu is slated to release the second batch of "Opportunities in Cities" on Wednesday, as an important part of the ongoing 2019 Chengdu Global Innovation and Entrepreneurship Fair (the 2019 Fair).
It has been three months since the first batch were unfolded this March. Noticeably, the List of Opportunities in Cities launched by Chengdu is the first of its kind across China.
The upcoming list is aimed at providing more application scenarios for new economy enterprises through the exhibition and exchange platform of the 2019 Fair, said Zhou Hong, deputy director at the Chengdu New Economy Development Commission. "We hope that we can continue launching the list every quarter."
National Business Daily learned that the List of Opportunities in Cities (2nd Batch) will unveil investment opportunities in countries such as the UK, Poland, and Israel, and also in cities including China's Hong Kong and Chengdu, with projects covering infrastructure, smart city construction, park city development, artificial intelligence, cloud computing, and big data.
Zhu Keli, a researcher on new economy with the Development Research Center of the State Council, once remarked that Chengdu's releasing List of Opportunities in Cities balances the relationship between the government and the market in new economy development, in that to push forward with new economy entails the former's role in micro guidance and also the latter's function in resource allocation.
Instead of drawing up a biased industrial development map, the government is able to steer excellent market elements towards the new economy sector and new industries by publishing the list of investment opportunities, Zhu remarked.
New economy calls for new governance which in return unleashes new momentum.
"The list presents all enterprises with opportunities in an open and transparent manner, so that every company can compete on an equal footing," said Zhou Hongliang, CEO of Chengdu Jingwei Technology.
Statistics shows that Chengdu in 2018 witnessed births of over 110 new economy enterprises every day and saw 4 local "unicorn" companies rising. The number of patents by new economy firms reached 56,500 last year, up 117 percent year on year.
Email: gaohan@nbd.com.cn
Editor: Gao Han