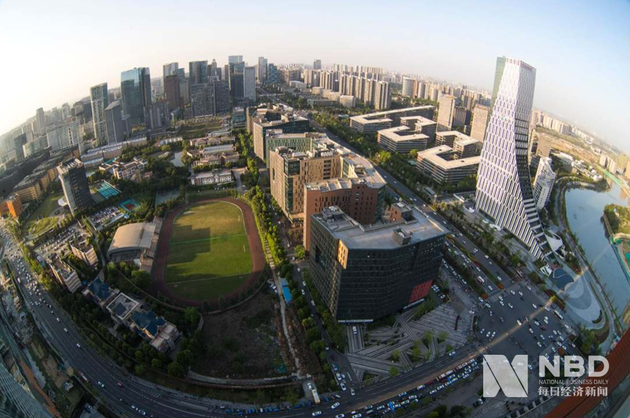 Chengdu High-Tech Zone [File photo/Zhang Jian (NBD)]
June 7 (NBD) — Leuven, the capital of Flemish Brabant province, Belgium, has a reputation for its education and intellectual economy. The city houses KU Leuven, one of the oldest existing catholic universities in the world, and has witnessed the flourishing development of Flemish Brabant as a knowledge region.   
On June 3 (Belgium time), in the city of Leuven, a memorandum on the establishment of international friendly communities was signed by Chengdu High-Tech Zone and Smart Hub Flemish Brabant ("Smart Hub"). "It is the premiere and we have not signed a similar memorandum with other high-tech development zones before," remarked Smart Hub manager Geert Regelbrugge in an interview with National Business Daily (NBD).  
Chengdu is the capital city of southwestern China's Sichuan province and more importantly, it is an enabling city for start-ups and innovators with national importance. Since May 27th, 2011, the sister-city relationship between Chengdu and province of Flemish Brabant has been initiated. This memorandum heralds a new era of cooperation between these two prosperous and innovative places in the fields of smart industry, education, elderly service industry, community governance, etc.
Initiated roughly 10 years ago, Smart Hub is a concentration of tech clusters in the five major fields of health, food, logistics, cleantech and creativity, and also a knowledge region in the center of Belgium encircling Brussels.
In Flemish Brabant, local economy relies more on intellectual capacity than on natural resources or physical inputs. 56 percent of the population work in science and technology with innovative companies.
"Smart Hub encompasses the province of Flemish Brabant," stressed Regelbrugge. "But it is not limited to Flemish Brabant." Smart Hub offers a platform for international cooperation, for different tech clusters focusing on the five major fields.
Both Chengdu and Flemish Brabant hold the desire to improve their intellectual capacity whereby the innovative and effective bilateral ties can be strengthened.
"In terms of the further cooperation with Chengdu High-Tech Zone, the most important thing for now is to ensure that the communication continues," noted Regelbrugge. 
He also told NBD that he was impressed by Chengdu as an upcoming knowledge city after visiting Tianfu Life Science Park located in Chengdu High-Tech Zone a few times. 
Chengdu is committed to building itself into a national innovative city and a regional innovation and entrepreneurship center with an international influence by 2025.
The southwest China's city is implementing the 2025 plan for Building Innovative City and Growth Driven by Innovation initiative. Through the Chengdu Global Innovation and Entrepreneurship Fair, 210 relevant events have been launched, 210 carriers for innovation and entrepreneurship (17 are of national level) have been founded, and a number of financial supporting foundations worth over 10 billion have been set up. 
Regelbrugge revealed that he is coming to the 2019 Chengdu Global Innovation and Entrepreneurship Fair which will kick off on June 10. "We hope the memorandum would be helpful to develop the cooperation between Chengdu and Flemish Brabant," Regelbrugge said. 
Email: gaohan@nbd.com.cn
Editor: Yu Peiying