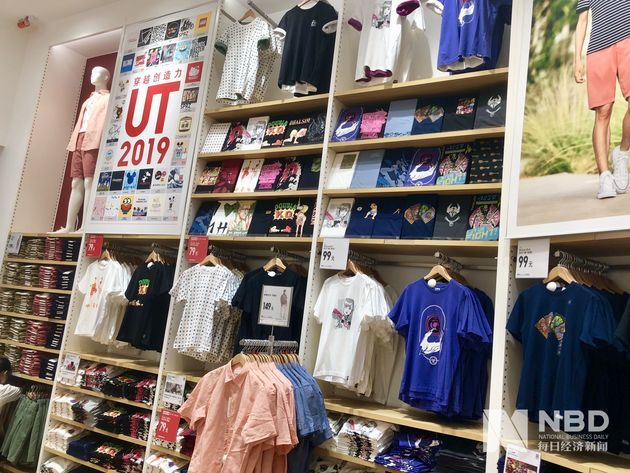 Photo/Zhang Lingxiao (NBD)
June 4 (NBD) -- The new UNIQLO x KAWS collection from Japanese casual wear retailer UNIQLO sparked Chinese consumers' enthusiasm about fashion items.
The collection, born from the collaboration between the Yamaguchi-headquartered apparel brand and Brooklyn-based artist and designer KAWS, hit the shelves at UNIQLO shops across China on Monday.
Short videos that showed shoppers sprinting to snap up the new release soon went viral on Chinese social platforms on the same day. 
A salesperson from a UNIQLO shop in Guangzhou told National Business Daily (NBD) that the items were nearly out of stock only two minutes after the shop opening. 
Similarly, two stores in the downtown of Chengdu also saw the shelves for the collection turn empty in a short time. "We don't have any more UNIQLO x KAWS items for adults but there are some for children left. It is not likely to restock the collection," a salesperson with a UNIQLO store in Chengdu said to NBD.
It is noted that popular items are also not available for purchase at the brand's online stores now.
When asked the reason for buying the collection, a consumer revealed that he likes the toys from KAWS and the products of UNIQLO are fairly priced.
Starting as a graffiti artist, KAWS is renowned for his figurative cartoon characters and motifs, as well as vinyl toys which have become a sought-after in the global art toy-collecting community. He then uses these characters in joint collections with other marques in the fashion sector.
Following his cooperation with footwear brand Air Jordan in 2017 to print the ironic "X" on the bottom of the new sneaker, Dior x KAWS' Pink 'BFF' Plush Doll and cotton sweat shirts debuted this January and February, respectively.
Compared to Dior's T-shirts priced up to 950 U.S. dollars, UNIQLO x KAWS shirts are relatively more affordable for shoppers seeking after the street fashion.
Cheng Weixiong, general manager of a Shanghai-based clothing brand management company, said the joint collections show the brands' personality and concepts. Behind the buying craze lies the chase for fashion trends, noted Cheng.
For UNIQLO, it could make a name in the fashion circle through the joint collections and gain more popularity among young consumers.
Since 2006, the Japanese fast-fashion brand has joined hands with diverse companies and designers in the fields ranging from film, cartoon, game, contemporary art to music and toy, and the joint UNIQLO T-shirts (UT) Collections have become a strong boost of the company's sales.
At UNIQLO's official shop on Chinese marketplace Tmall, a number of UT Collection items have generated a total sales volume of more than 10,000 pieces.
It is noted that UNIQLO reaped a revenue of 1.76 trillion yen (16.08 billion U.S. dollars) in the fiscal year 2018 ended August 31, 2018, up 15.9 percent year over year, and Greater China was a major overseas market for the brand, according to the financial report of UNIQLO parent Fast Retailing.
Email: lansuying@nbd.com.cn
Editor: Zhang Lingxiao