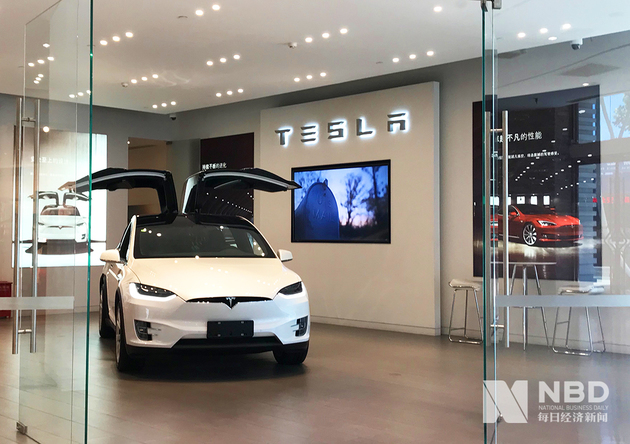 Photo/Zhang Xiaoqing (NBD)
May 24 (NBD) -- U.S. electric car upstart Tesla is poised to hire employees for its Gigafactory in Shanghai, though the plant is still under construction.
National Business Daily found that the Tesla factory located at the Lingang Industrial Zone will hold a job fair on May 29, looking to hire for 25 positions for punching, welding, coating, assembly, facility operations, and logistics departments.
With construction commencing in January this year, the plant is Tesla's first factory outside the U.S. as well as the largest foreign-invested manufacturing project in the history of Shanghai.
The plant was bustling with workers and the main structure has taken shape, Autohome, a platform focusing on auto industry information, reported after a field visit in mid-May. According to workers there, the factory is estimated to be completed at the end of July.
The first-phase project has a designed yearly production capacity of 250,000 electric cars, and will be used for the production of the affordable versions of the Model 3 and Model Y, shows an environmental impact assessment report. Eventually, Tesla will ramp up the capacity to as many as 500,000 electric vehicles annually.
From Tesla's earnings and sales for the recent five quarters, it can be seen that the mass delivery of the Model 3 is key to the electric car maker's profitability, Autohome said. In the first quarter of 2019, Tesla delivered 63,000 vehicles worldwide, of which there were 50,900 Model 3 cars.
"The demand for Model 3 is insanely high," Tesla CEO Elon Musk said in the conference call about first-quarter earnings. "The inhibitor is affordability. It's just that people literally don't have the money to buy the car." In mainland China, the starting price for a standard range Model 3 RWD variant is 377,000 yuan (54,643 U.S. dollars) and the price for a long-range version starts at 421,000 yuan.
Undoubtedly, the local production at the Shanghai plant will help Tesla dramatically lower costs and selling prices, thus giving it more edge in the competition.
But whether the company can eventually grab a bigger share in China will be up to the market environment and customer confidence in electric cars, Autohome commented.
Email: lansuying@nbd.com.cn
Editor: Lan Suying