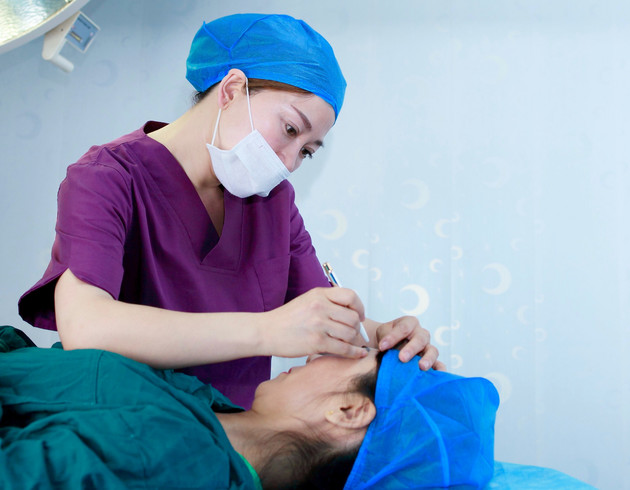 Photo/Shetuwang
While many people are trying all manner of ways to prevent hair loss and boost the growth of new hair, some are having plastic surgery to do the opposite.
More young women are resorting to procedures to remove hair on the forehead to improve the shape of their faces, said Wang Wei, dermatology director of the MYOUNG BeauCare Clinic in Beijing.
Wang has been performing such procedures for more than 10 years. At first, only a few men who had thick hair that reached the forehead asked her to recede their hairlines, but for the past five years or so, more people, mainly young women, have turned to her for help.
"These patients often have such procedures because they are not satisfied with their facial contours, but don't want to have other complex facial surgeries," Wang said.
"Forming a new hairline by removing unwanted hair from the forehead by laser to destroy follicles is an easy procedure that is very effective in changing the shape of the face to make a person look more beautiful."
Most of the customers are 20 to 30 years old, earn high salaries and are demanding about living standards, Wang said.
The advance of laser technologies and introduction of new equipment has prompted more people to seek such procedures.
Few customers are older than 30, because as people age, thinning hair and receding hairlines become more commonplace, Wang said.
A surgeon needs to take a receding hairline into consideration when designing a new one and destroying follicles for a customer, she added.
Cherry Chen, 37, an editor in Beijing, had a laser procedure to recede her hairline last summer. She is pleased with her new hairline because she can now have whatever hairstyle she wants.
Before the procedure was carried out, she always had a bang to cover her forehead, and never had a ponytail.
Chen heard about the procedure when she accompanied a friend to a plastic surgery clinic.
The friend was to have hyaluronic acid injection for anti-aging treatment, and when Chen asked a doctor at the clinic if she could lengthen the forehead by administering such an injection, laser treatment was recommended.
She immediately decided to have the treatment the next day, which took about half an hour and cost more than 5,000 yuan (745 U.S. dollars).
She remembers feeling some pain during the procedure, but said it was tolerable. 
The results have been so satisfying that she has shared her experience with close friends, some of whom also plan to have the treatment.
Email: lansuying@nbd.com.cn
Editor: Lan Suying