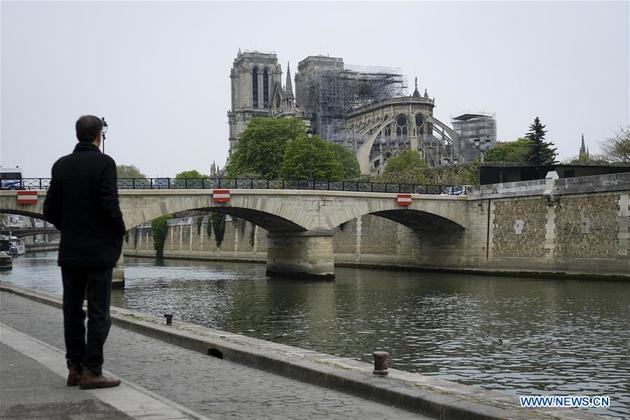 A man watches the damaged Notre Dame Cathedral after a fire in central Paris, capital of France, April 16, 2019. The devastating fire at Notre Dame Cathedral in central Paris has been put out after burning for 15 hours, local media reported on Tuesday. (Xinhua/Alexandre Karmen)
French President Emmanuel Macron on Tuesday vowed to rebuild Notre Dame Cathedral, devastated by fire on Monday evening, within five years, calling on the French to remain united.
In a brief televised speech, Macron told the nation "We will rebuild Notre Dame even more beautifully and I want it to be completed in five years".
"It is up to us to change this disaster into an opportunity to come together... It is up to us to find the thread of our national project, the one that has made us, unites us, a human project, deeply French," he said.
In early Monday evening, a fire broke out in the famed cathedral. Online footage showed thick smoke billowing from the top of the cathedral and huge flames between its two bell towers engulfing the spire and the entire roof which both collapsed later.
The structure of Notre Dame, one of the finest examples of French Gothic architecture, still stood firm after 15 hours of burning fire. However, "some weaknesses" have been identified notably in the vault, according to Junior Interior Minister Laurent Nunez.
Visiting the burnt site, Macron, last night, announced the launch of a fundraising campaign to reconstruct the cathedral.
Although the extent of the damage is not estimated yet, donations of about 700 million euros (790 million U.S. dollars) have been pledged to rebuild the 850-year-old Gothic building Notre Dame Cathedral.
Two of France's most rich businessmen, Francois-Henri Pinault, chief executive of the Kering group which owns brands including Gucci and Yves Saint Laurent, and Bernard Arnault, the main shareholder of luxury group LVMH, opened the donation campaign. They offered 100 million euros and 200 million euros of donations respectively.
That was followed by 100 million euros pledged by energy giant Total and 50 million euros by Paris city hall. French luxury and cosmetics group L'Oreal also will donate 200 million euros while other companies pledged donations ranging between 10 and 20 million euros.
Local media reported that the fire, which broke out at around 1645 GMT, may be linked to renovation works.
The inquiry to determine how the fire broke, with the involvement of 50 investigators, would be "long and complex", warned Paris prosecutor Remy Heitz.
He said the blaze was probably caused by accident as no signs "at this stage" pointed to a criminal purpose.
The cathedral, whose construction began in 1160 and continued over a century, is part of the World heritage site of "Paris, Banks of the Seine" inscribed on the World Heritage List in 1991. It receives 13 million visitors yearly. (1 euro = 1.128 U.S. dollar)
Email: lansuying@nbd.com.cn
Editor: Lan Suying