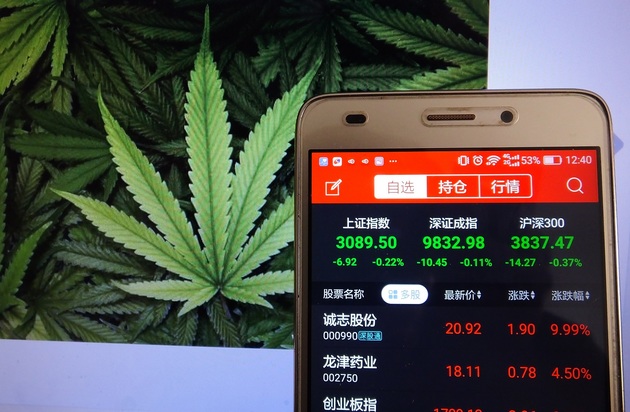 Photo/Dfic
Mar. 27 (NBD) – Industrial hemp has been hotly pursued by investors in China's capital market. The stock prices of several listed companies that have hemp-related businesses more than doubled in recent trading. 
According to financial data provider Wind, stock prices of the industrial hemp sector in general soared by 145 percent from the beginning of 2019 to March 25.
The fever over the green plant originated from the loosened policy towards hemp products of special uses in North America. Currently in China the cultivation of industrial hemp is confined to the two provinces of Yunnan and Heilongjiang, while Jilin Province is expected to be the third permitted location, signifying the continuing loosening of regulation.
Industrial hemp is different from marijuana in that it contains very low (0.3 percent or less) concentration of THC, the major psychoactive substance that makes marijuana users "high".
Materials obtained from industrial hemp can be applied in areas including medicine, food, textile, and construction. CBD, another compound contained in hemps, can be used for the treatment of epilepsy disorders, as well as resisting anxiety and spasm. The medical use of hemp is therefore the most valued application.
A person in private fund, however, commented that the popularity of industrial hemp in the stock market is no more than speculation. The hype does not necessarily equal the prospect of the industry, he said to NBD.
NBD noted that currently in China the application of hemp products is limited, and many of the listed companies only engage in hemp cultivation, which has relatively lower profit margin.
A business person with a listed company told NBD that the acquisition of license for the cultivation of industrial hemp is quite easy, but the extraction of CBD requires processing license, which is harder to get. Currently in Yunan province there are only five companies that have the license.
Moreover, China has not granted the legalization of medicinal hemp, and the medical community is largely unaware of the plant's medical value. Several practicing doctors told NBD they have never heard of industrial hemp.
Tan Xin, chairman of Hanma Investment Group Co Ltd (HMI Group), which is an "industry unicorn" that focuses on the whole industry chain investment of industrial hemp, expressed a much more realistic view on the future of the industry.
Tan told NBD that the cost of agricultural production in China is comprehensively higher than that of the U.S., and China has lower productivity, hence less competitiveness in agriculture. Planting hemp is no exception.
Besides, China's industrial hemp industry has shortcomings in agricultural technology, especially the scarcity of high-quality hemp species. The concentration of CBD in China's industrial hemp is generally 1.2 percent, while species planted in the U.S. contains at least 3 percent, and the figure could reach 10 percent.
North America remains the major market for CBD that HMI Group extracted, and the company invested a great deal of money and labor forces to improve hemp quality every year to catch up with international standards.
"So there is no reason to be overly optimistic about China's industrial hemp industry, and we have a long way ahead," said Tan.
Tan suggested that industrial hemp has great potential in providing raw materials for fast consumption products, and China should speed up enactment of related legislations and regulative policies, . The green plant is also a medical treasure trove that urgently calls for utilization.
Email: limenglin@nbd.com.cn
Editor: Li Menglin