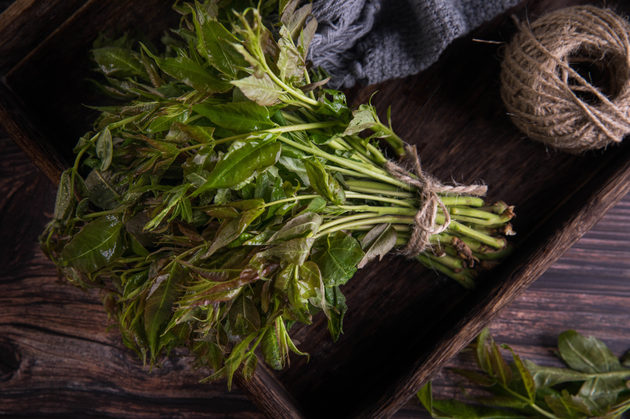 Photo/Shetuwang

Mar. 25 (NBD) -- The term "Chinese mahogany freedom", which made a hit in early this month, has replaced "cherry freedom" as the latest measure of a person's wealth level.
If a group of people are able to purchase a particular product without thinking twice, they are regarded to achieve a certain financial freedom.
Chinese mahogany, or red toon, a seasonal vegetable with short sales period, has become an ephemeral buzzword on the Internet since its retail price skyrocketed to tap even 400 yuan (59.6 U.S. dollars) per kilogram in mid-March.
Some made a conversion table in which the price of 0.5-kilogram red toon is equivalent to that of 39 crayfishes, two hairy crabs and one Boston lobster.
The fever took place one month earlier than the previous year.
The vegetable normally go on sale before or after the solar term Grain Rain, which starts around April 20 and ends on May 5. The trending index for Chinese mahogany on search engine Baidu peaked on April 20 in 2014-2018.
This year, the WeChat Index for the product sharply soared by 2507 percent on March 17 before falling back to common range.
Affected by the changing market trend, the price of products on the upstream of supply chain were also on a roller coaster. A buyer at Yonghui Yunchuang, a supply chain service provider operated by Yonghui Superstores, said the price at places abounding with Chinese mahogany once rose to 110 yuan (16.4 U.S. dollars) per kilogram, which currently drops to 40-45 yuan (6.0-6.7 U.S. dollars) for each kilogram.
On Sunday, the product was sold at as low as 6-20 yuan (0.9-3.0 U.S. dollars)/kilogram on e-commerce platform Tmall.
In fact, in addition to Chinese toon and cherries, milk tea, lipstick, cars were also picked as the standards of financial freedom. Compared with other commodities, Chinese toon presents a dramatic fluctuation in price.
The deep processed red toon products such as cured products, condiments and compound beverage could establish price stability. But those products are at the budding stage of development and are facing technical and process improvement issues.
Last October, a video titled "15 Stages of Female Financial Freedom" was published on social media, listing 15 levels of individual financial conditions.
The guide starts with "latiao freedom", the ability to buy spicy-sweet sticks, then moves from milk tea freedom, video website membership freedom, food delivery freedom, Starbucks freedom, cherry freedom, gaming freedom, lipstick freedom, clothing freedom, online shopping freedom, smartphone freedom, travel freedom, handbag freedom, relationship freedom to property freedom.
Email: zhanglingxiao@nbd.com.cn

Editor: Zhang Lingxiao