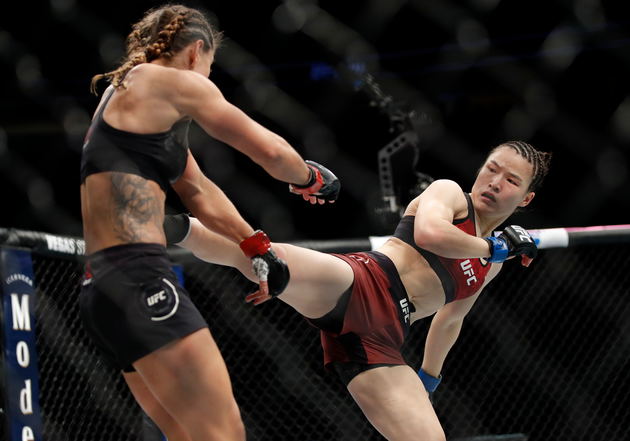 Photo/Zhang Weili (Dfic)
Mar.14 (NBD) -- Chinese mixed martial artist Zhang Weilli is becoming a rising force in the Ultimate Fighting Championship (UFC) strawweights after taking out perennial contender Tecia Torres.
The victory extended Zhang's winning streak to a whopping 19 fights and propelled her eight spots in the rankings to No.7, making her the first ever Chinese player entering the top 10 of UFC.
However, the achievement is not easily come by, especially for Zhang, a Sanda (Chinese boxing) combater who had glorious old times but forced to retire at her early twenties due to injuries.
Before she went back to the stage, Zhang made a living by working as a preschool teacher, salesperson, hotel receptionist, cashier, gym coach, etc. "I was in a total loss during those days," Zhang said to news outlet The Paper in an interview, "but I know this isn't my life and I have to do what I am really in."
When she was coaching at a gym, the girl was only paid with meager wages. However, she loves the job because there is an arena that allows her to practice kickboxing again. In the gym she also met a lot of friends with shared interests, including renowned Mixed Martial Arts (MMA) fighter Wu Haotian, according to Tencent's news platform.
She woke up early in the morning and made a 1.5-hour trip to practice before starting her work. "My schedules are really tight, but I don't feel tired because it makes me closer to MMA," said Zhang.
But unfortunately, she lost the first MMA battle in October 2013 when she still had to cover the costs of the competition with her salaries from a non-relevant job. To make matters worse, sever back injuries in 2014 forced her to take a rest for nine months before restarting training.
Despite hardships, Zhang didn't lose her heart. Later on, the girl won several champions on Kunlun Fight (KLF) promotion since the end of 2015. Moreover, she was crowned straweight champion in South Korean MMA promotion Top Fighting Championship (TFC) by beating her rival Ye-Dam Seo in 2017.
With those achievements, she made her way to a contracted fighter of Las Vegas-based UFC, the world's biggest MMA promotion company last year. In there, she locked in three straight wins through beating gritty Danielle Taylor, Jessica Aguilar and UFC top-10 fighter Tecia Torres from august 2018 to March 2019.
"The time flies and it seems somehow I win the flights in a flash," Zhang described her wins in a light manner. But industry insiders know the victory is not easy to come by, especially her third fight in Las Vegas when she became the first Chinese player to enter a Pay-per-view (PPV) event.
It is worth noting that she has to face many things except the rivals on the stage. For example, her visa application for the UFC's event in last August was finally approved after several rejections. But her coach team was not that lucky and she had to go for the match on herself.
"Unlike competitions in China, you have to consider issues such as visa, jet lag and the food," said Zhang. "Plenty of American food is cold or uncooked, which I don't get used to that," she elaborated.
When asked about her dreams, the girl said she wants to prove the strength of China MMA to the world. "If I perform well, then more people will know me and China MMA. Sporting is not a thing of a person, and the back of teams and fans can get me closer to my dream," she added.
Email: tanyuhan@nbd.com.cn
Editor: Tan Yuhan