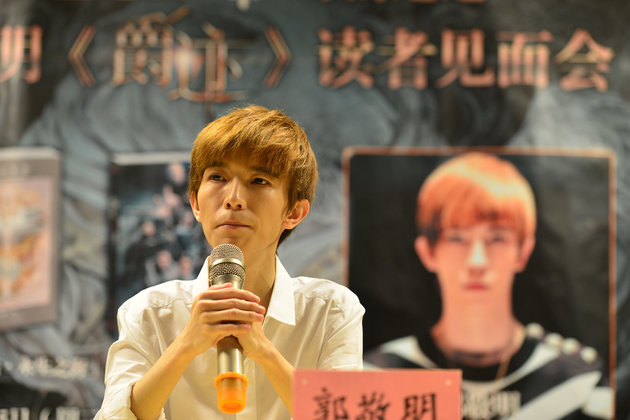 Photo/VCG
Mar. 13 (NBD) – In March, the cancellation of four companies related to Guo Jingming, once China's richest writer, prompted readers to lament the end of an era when writers including Guo and Han Han had dominating presence in young readership.
It all started with New Concept Writing Competition, which is known as the incubator of a batch of young writers. In 1999, Han, then a high school student, won the first prize in the competition with an improvised essay, and the boy instantly became a literary sensation. 
Two years later, Guo, 18 years old, won the first prize of the third New Concept Writing Competition as well.
In the following years, the two Shanghai-based writers became the brightest literary stars of their generation. They are so often associated and compared with each other both because of their similarities and their differences.
Guo, the writer of teenage and young adult romances, was often criticized for the unabashed materialism both in his works and lifestyle. Han, on the other hand, won his reputation as a maverick and a fierce critic of the dark side of society.
But then again, they both embraced the commercial world, making money out of their literary reputation in various forms. When the once hailed young writers walk towards middle age, the days of writing seem so long ago.
The literature businessman
"Writing novels is just one part of my life, maybe not even half of it. I have other things to do, for example, running my companies," Guo Jingming so defined his identity. "I'm not as wholeheartedly committed to literary causes as other writers do."
In 2004, Guo set up his own studio "Island", and edited a series of magazines under the brand, which had a circulation of 400,000 copies at the peak. In 2010, he founded a fully owned company that scouted a cluster of young writers who won a huge teenage fan base with their "star" and "idol" aura.
Guo's publishing empire made him the richest writer of China in 2007, 2008 and 2011. Then he turned to filmmaking, and reaped nearly 1.8 billion yuan (268.2 U.S. dollars) in box office from Tiny Times, a movie tetralogy starting from 2013 adapted from his namesake novels.
But in 2016, Guo's computer animated fantasy movie L.O.R.D.: Legend of Ravaging Dynasties fell far behind expectation both in rating and box office. The sequel, which was set to hit the big screen in summer 2018, was postponed indefinitely. 
The tamed rebel
"The money Guo makes in a month equals my annual income," said Han in an interview in 2009, "I can easily be richer than him, but I don't want to sacrifice my freedom and personality".
His words well illustrated how he was perceived by the public back then: an idiosyncratic and acute critic. But over the years he has morphed into a shrewd businessman, too.
Apart from a few promotion pieces, Han stopped updating his blog in 2013, which was one of the most read blogs in China and where he often posted opinions on public issues.
Starting from 2014, Han made three successful movies that earned accumulated 3.392 billion yuan (505.4 million U.S. dollars). Having shrugged off the label of a fierce rebel, Han has gradually learnt to cater to the flavors of the general public.
Guo and Han had their highs and lows in the business world, and one of the many things they have in common is that they don't write anymore. Along with them, a generation of star writers in youth literature has stepped down from the stage.
Email: limenglin@nbd.com.cn
Editor: Li Menglin